Using our artworks to inspire cross-curricular work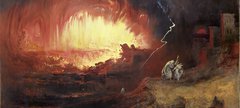 Take One Picture is a programme run by the National Gallery, where primary schools are invited to focus on a different painting in their collection each year. Primary schools then use the artwork to inspire creative and cross-curricular work using the painting's subject matter, historical context, or composition.
We have supported a number of schools to adapt this model using regional art collections and temporary displays at the Laing Art Gallery. Artworks can either be selected by teaching staff or pupils and made relevant to the school's curriculum. We are currently exploring ways of sharing our artworks virtually into the classroom by live streaming.
Artworks previously used as inspiration include The Women by John Charlton, The Destruction of Sodom & Gomorrah by John Martin, Isabella and the Pot of Basil, by William Holman Hunt amongst many others.
Our concept of Take More, has been developed from a recent collaboration between the Laing Art Gallery and Hotspur Primary School in Newcastle. Year 6 pupils from Hotspur Primary selected 15 artworks from the gallery to focus on with their 'family groups' (similar to school Houses – their family groups consist of pupils from Reception through to Year 6). They created their own visual and written responses which were documented in family group portfolios to clearly demonstrate progression from Reception to Year 6. For more information about this pilot collaboration please see Hotspur Primary School's website: https://hotspurprimary.co.uk/c...
Miles Wallis- Clarke, former Head Teacher, Hotspur Primary School said:
"We have worked closely with the Laing Art Gallery particularly during the last year. The experience has been fantastic - I have been bowled over by the flexibility, enthusiasm, knowledge and commitment of the staff team. We are so fortunate to have this resource which has such a breadth of artwork available in the heart of our City. I have recommended this to many colleagues as one of the most successful cultural organisation partnerships we have been part of."
If you are interested in a Take One, or Take More project for your school please contact the Learning Team for more information, guidance and details on our current charges.
Contact our Learning Team for more information:
learning@laingartgallery.org.uk / 0191 278 1939