Our collections
The Laing Art Gallery's exceptional art collection focuses on British oil paintings, watercolours, ceramics, silver and glassware. The collection has Designated status in recognition of its national and international significance.
From its earliest days the Laing benefited from a large number of important gifts and bequests from prominent local industrialists, public figures and the Contemporary Art Society. In recent years it has grown through funding from, amongst others, the National Art Collections Fund, the Museum, Libraries and Archives Council / Victoria and Albert Museum Purchase Grant Fund, and the Heritage Lottery Fund. The support of the Friends of the Laing Art Gallery continues to be instrumental in building the collection.
Highlights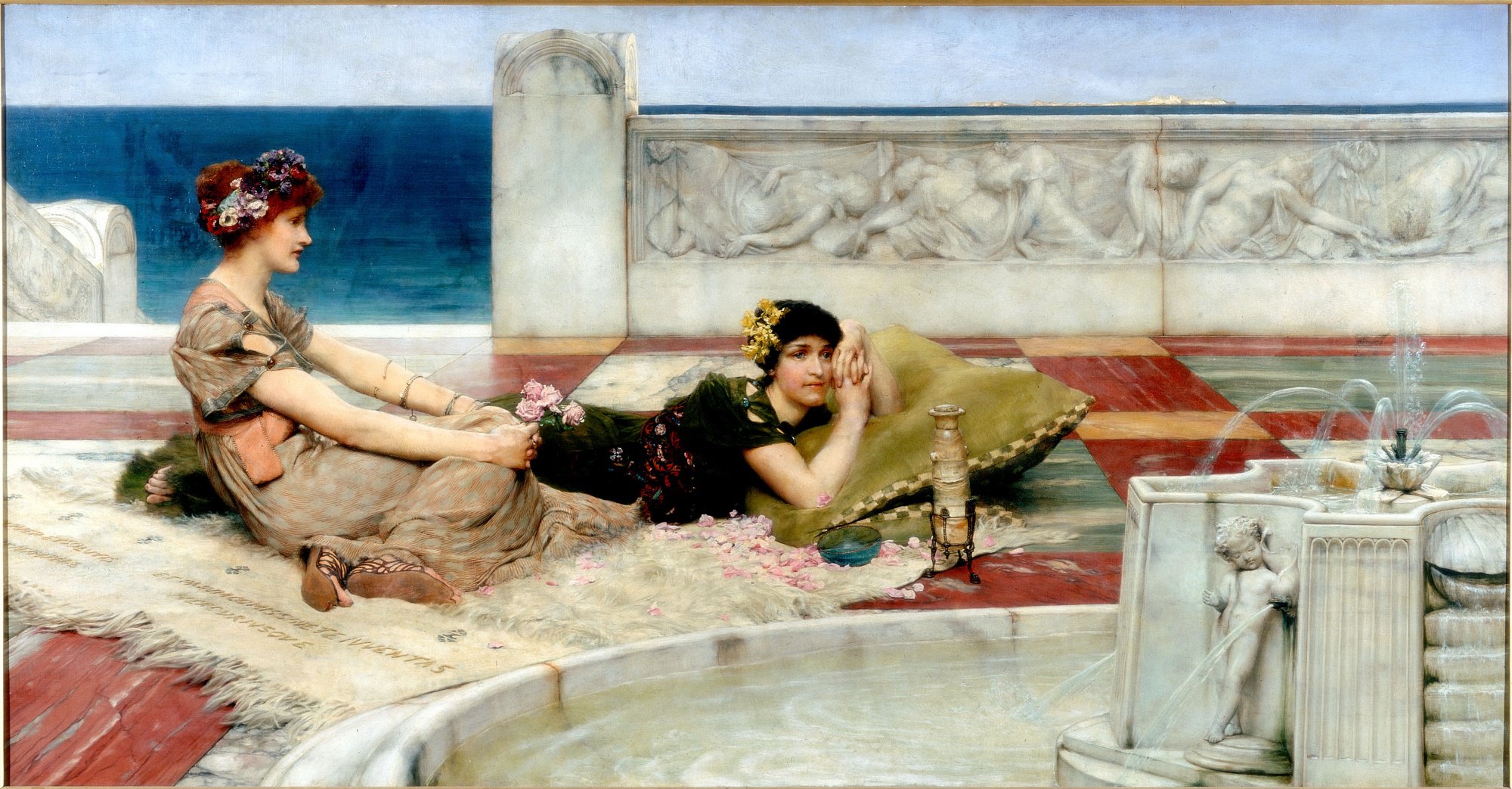 Love in Idleness by Lawrence Alma-Tadema
Highlights include outstanding pictures by William Holman Hunt, Edward Burne-Jones, Paul Gauguin, and Victor Pasmore, together with an important group of paintings by 19th-century artist John Martin, who was born and brought up in the North East.


Lawrence Alma-Tadema and Daniel Maclise also feature among the 19th-century paintings, together with significant pictures by local artists TM Richardson, Ralph Hedley and CN Hemy. 20th century artists include Laura Knight, Ben Nicholson, David Bomberg, and Gillian Ayres, and there is a growing contemporary collection.

The Laing's watercolours are also of national importance, and include pictures by Thomas Girtin, JMW Turner, Edward Lear, JF Lewis and Elizabeth Blackadder. There is also a small collection of sculpture, which includes pieces by Albert Toft, Henry Moore and Anthony Caro.
From the extensive decorative art collection, Beilby enamelled glass is of particular significance, and there are fine pieces of Newcastle silver spanning 400 years. The local glass collection features Sowerby studio glass together with Davidson and Sowerby pressed glass. Maling ceramics from the 19th and 20th century form an important part of the collections of North East pottery. There is also a fine collection of Japanese decorative arts and prints.
Many outstanding local paintings and objects are on show in the Northern Spirit display on the ground floor. However, not all collection items are on permanent display. Please contact the Gallery before making a special visit.
The Laing team have been blogging about some of the artworks in the Laing collection - read their blog posts.
Thomas Bewick
The Discovering Bewick website explores works by the eighteenth century wood-engraver Thomas Bewick which are held in collections at the Laing Art Gallery and Newcastle City Library (Pease Collection) in Newcastle-upon-Tyne. All the examples are original (not reproduced) works by Thomas Bewick or his apprentices. They include paintings, drawings, woodblocks, copperplates and the exquisite wood-engravings which made Thomas Bewick a celebrity in his own lifetime.