KS1, KS2, KS3, KS4, colleges and universities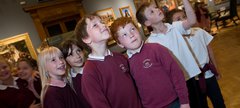 Free
To find out more about school visits at the Laing, check out our Essential Information page and our Resources for self-led visits.
NEW Schools Membership Scheme
Save on workshop costs and enjoy a range of additional benefits by joining our yearly Membership Scheme.
Self-led visits are free but its a good idea to let us know that you are coming.
We will be able to help with information about what's on and provide pre-visit resources. Subject to availability, you can book a space for your group to have a packed lunch.