Northern Spirit
Celebrating artists, manufacturers and makers from North East England.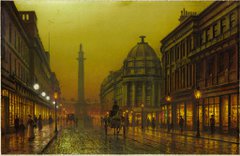 Opening Times

Monday - Saturday: 10am - 4.30pm
Closed Sundays and Bank Holidays
Donations welcome, free entry

Northern Spirit is a major permanent exhibition celebrating the achievements of artists, manufacturers and makers from the North East of England. Here you can find out more about some of the objects which are on show in the new Northern Spirit display.
Internationally acclaimed art from the Laing Art Gallery's collection feature in this new display, including work by 19th century painter John Martin, engraver and naturalist Thomas Bewick and the Beilby family of glass enamellers.
Also featuring in the exhibition is an interactive map that allows you to explore different views of Tyneside and some of the surrounding areas. Some of the images on the map are from the Laing's own collection, some are from archives, some are from photographers and others were contributed through an online competition.