Art Gallery CPD Package for Primary Schools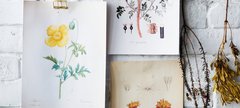 Open to all primary schools, and designed as a package for whole school staff training, or for a selection of staff. We would recommend no more than x20 teachers per session.
Package fee: £900 (inclusive of planning and materials)
See Summary of Package for more information regarding content of sessions.
For more information or to book the package please get in touch by email learning@laingartgallery.org.uk or call us on (0191) 278 1939.
The package comprises 6 sessions, each session is 1 hour in length. We would recommend no more than x20 teachers per session. Sessions can be delivered across an academic year or condensed over 1 or 2 school terms, to suit your requirements. See session content below, or click here to download.
Session 1 - Intro
Using gallery collections Explore, think, discuss, create; building confidence in visiting a gallery independently, using the gallery collections to engage pupils and inspire work back in the classroom across the curriculum.
Session 2 - Printmaking techniques
Learning basic printmaking techniques which can be replicated in the classroom. Useful for studying pattern, design, nature as well as artists such as William Morris.


Session 3 - Sketchbooks & Annotation
Understanding the importance and uses of a sketchbook and annotations for drawings. How to create a quick and simple sketchbook with scrap
materials.

Session 4 - Drawing skills
Learning basic drawing/ sketching techniques, experimenting with different drawing materials. Understanding how to develop quick sketches into more detailed drawings, inside and outside of the classroom.

Session 5 - Watercolour techniques
Learning watercolour techniques and how to apply these. Experimenting with various effects and using these to create a piece of artwork.


Session 6 - Visiting galleries & using resources
How to get the most out of a visit to an art gallery; from booking and hazard identification to using gallery spaces and resources.