Picture of the month
Join the Friends of the Laing for a free 45 minute talk every Saturday morning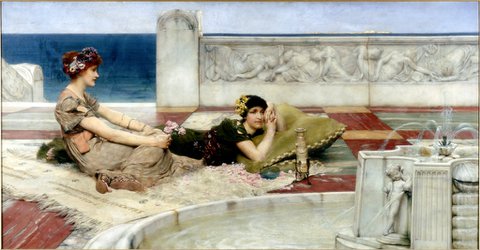 Until Saturday 16 December
Time
11am every Saturday
Free, donations are welcome
Meet in the Marble Hall to take part
Take a break from the hustle and bustle of the city centre every Saturday morning with a free talk from the Friends of the Laing Art Gallery. Find out more about some of the paintings in our collection and share your experience with fellow art lovers.
July
Newcastle upon Tyne from Gateshead (1895) by Niels Moeller Lund
August
Self-portrait (1895) by Ralph Hedley
September
Laus Veneris (1873-75) by Edward Burne-Jones
October
Ruins of a Northumbrian Keep (1864) by Charles Napier Hemy
November
Hypatia (1885) by Charles William Mitchell
2 & 16 December*
Mrs Elizabeth Riddell (1763) by Joshua Reynolds
9 December**
Pit Road (pre-1960) by Norman Cornish

*There will be no talks on Saturdays 23 & 30 December due to Christmas holidays
**The subject of this talk has changed due a wedding being held in gallery D.