Picture of the month
Join us for a talk from Friends of the Laing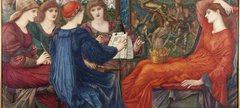 Until Saturday 16 December
6 January 2024 - 30 March 2024
Every Saturday at 11am, unless otherwise stated (please check this webpage for updates).

The talks usually last between 30 - 45 minutes.

Meet at the Marble Hall
This is a free event, donations welcome.
Take a break from the hustle and bustle of the city centre every Saturday morning with a free talk from the Friends of the Laing Art Gallery. Find out more about some of the paintings in our collection and share your experience with fellow art lovers.
October Winifred Nicholson, Evening at Boothby, 1953

November Ralph Hedley, Geordie haad the bairn, 1890

December Sir Edward C. Burne-Jones ARA, Laus Veneris, c.1873/75
January Thomas Miles Richardson, The Young Anglers Barras Bridge, c. 1822
February Roland Vivian Pitchforth RA, Spring Cleaning, 1928-1932
March Norman Cornish MBE, Wet Fridays, 1975