An exhibition spanning the lifework of one of the most distinctive British artists of the 20th century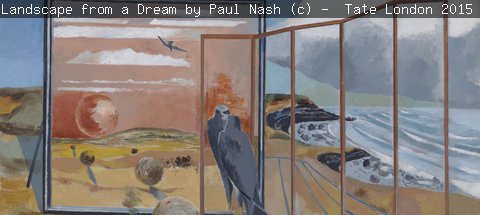 9 September 2017 - 14 January 2018
Opening Times
| | |
| --- | --- |
| Monday | Closed (except bank holidays) |
| Tuesday | 10am - 5pm |
| Wednesday | 10am - 5pm |
| Thursday | 10am - 5pm |
| Friday | 10am - 5pm |
| Saturday | 10am - 5pm |
| Sunday | 2pm - 5pm |
Admission
| | |
| --- | --- |
| Full price (including donation) | £10 |
| Full price (without donation) | £7.50 |
| Concessions* | £6.75 |
| Family ticket** | £15 |
| Children 12 and under | Free |
| Membership discounts*** | £3.75 |
| Multi-visit ticket | £14.75 |
| Multi-visit member | £9 |
All funds raised from the sale of tickets for this exhibition go to directly support the work of the Laing Art Gallery.
Max Card holders, members of NMDC and Museum Association and exhibition lenders: Free
*Concessions include senior citizens, 12-18 year olds, students, registered unemployed, disabled people (plus free entry for one carer).
**Two adults and two 12-18 year olds or one adult and three 12-18 year olds.
***Membership discount applies to Friends of the Laing, Art Fund members and Laing Exhibition Partners.
To be eligible for discounts you must show proof of age/status/membership.
Booking
Book online or at the venue
With four and five star reviews including Guardian, The Times, Londonist and Time Out London, this exhibition of work by Paul Nash comes to the Laing Art Gallery from Tate Britain, London.
Paul Nash (1889 –1946) was one of the most distinctive British artists of the 20th century and was a key figure in British Surrealism. His art forged an important new connection between surreal and mystical ideas and the English landscape. This significant exhibition spans Nash's lifework, from his earliest drawings and the iconic war paintings to his powerfully emotional final landscapes.
Nash had a strong attachment to Britain's countryside and coast, and was fascinated by its ancient history. Landscape painting was a major feature of his art, evolving from dreamlike scenes to intense encounters with particular places and explorations of ideas from Cubism, Abstraction and Surrealism. These qualities also shaped Nash's paintings of interiors as well as the prints he made as book illustrations. His shattered landscapes are some of the most striking pictures of the First and Second World Wars.
The exhibition includes a fascinating array of photographs and surreal objects, assembled as sources of inspiration by Nash and artist Eileen Agar, with whom he collaborated in the 1930s. Nash was a founding member of the British modernist group Unit One in 1933, and participated in the International Surrealist Exhibition of 1936. Pictures by Nash from this key moment in British modernism are on display alongside sculpture and paintings by fellow Unit One artists, including Barbara Hepworth, Henry Moore and Edward Wadsworth.
The exhibition concludes with the evocative landscape paintings that Nash produced in the last decade of his life. In these important pictures, the sun and moon are symbolic presences, and vibrant colour conveys Nash's emotional response to the landscape.
The exhibition is organised by Tate Britain in association with the Laing Art Gallery and the Sainsbury Centre for Visual Arts.
---
Reviews
The Guardian

****
Pain, wonder and inescapable menace. Read more
The Telegraph
****
Paul Nash at Tate Britain is one of the year's essential exhibitions. Read more
The Times
****
This retrospective offers the first chance in 40 years to discover not just the full range but the true depth of this painter. Read more
TimeOut London

****
At his best, Nash combines surrealism and Englishness while avoiding both the superficial trickery of the former and the parochial lyricism of the latter. Read more

theartsdesk.com

****
Key themes recur, but the visionary landscape painter experimented constantly. Read more
Londonist
*****
One of Britain's greatest painters gets the show he deserves Read more
The Lady
*****
This is an exhibition that must be seen because it shows so well the breadth of this man's achievements.Read more
These reviews reflect the exhibition in its original form at Tate Britain.