Paul Nash
This is a historic exhibition. It is no longer available to visit and this page is only retained as a record of the previous event. For current and future exhibitions, visit our
What's On
page.
An exhibition spanning the lifework of one of the most distinctive British artists of the 20th century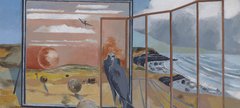 Until 14 January 2018 (historic exhibition)
With four and five star reviews including Guardian, The Times, Londonist and Time Out London, this exhibition of work by Paul Nash comes to the Laing Art Gallery from Tate Britain, London.

Paul Nash (1889 –1946) was one of the most distinctive British artists of the 20th century and was a key figure in British Surrealism. His art forged an important new connection between surreal and mystical ideas and the English landscape. This significant exhibition spans Nash's lifework, from his earliest drawings and the iconic war paintings to his powerfully emotional final landscapes.
Nash had a strong attachment to Britain's countryside and coast, and was fascinated by its ancient history. Landscape painting was a major feature of his art, evolving from dreamlike scenes to intense encounters with particular places and explorations of ideas from Cubism, Abstraction and Surrealism. These qualities also shaped Nash's paintings of interiors as well as the prints he made as book illustrations. His shattered landscapes are some of the most striking pictures of the First and Second World Wars.
The exhibition includes a fascinating array of photographs and surreal objects, assembled as sources of inspiration by Nash and artist Eileen Agar, with whom he collaborated in the 1930s. Nash was a founding member of the British modernist group Unit One in 1933, and participated in the International Surrealist Exhibition of 1936. Pictures by Nash from this key moment in British modernism are on display alongside sculpture and paintings by fellow Unit One artists, including Barbara Hepworth, Henry Moore and Edward Wadsworth.
The exhibition concludes with the evocative landscape paintings that Nash produced in the last decade of his life. In these important pictures, the sun and moon are symbolic presences, and vibrant colour conveys Nash's emotional response to the landscape.
The exhibition is organised by Tate Britain in association with the Laing Art Gallery and the Sainsbury Centre for Visual Arts.
---
---
---
---
Read our blog on Paul Nash's First World War experiences and paintings. See our next blog on Paul Nash,a Romantic Surrealist.