KS1, KS2, SEND: Art & Design, Geography, Local History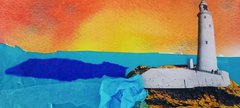 Cost: £100
Workshop length: 1 hour 30 minutes.
Schools Membership Scheme
Save on workshop costs and enjoy a range of additional benefits by joining our yearly membership scheme
Discover artworks based on life in the North East using the Northern Spirit gallery as inspiration. Pupils will investigate local heritage and industry, such as mining and shipbuilding through the people and landscapes depicted in our Northern Spirit gallery. Paintings will be brought to life through gallery games and interactive activities.