Contemporary Icons
In partnership with the National Portrait Gallery, London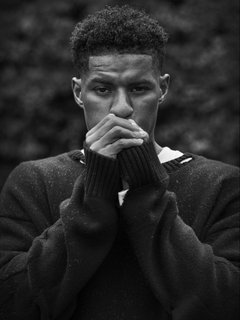 Location
Collection Display Gallery (Gallery C, first floor)
These portraits will be available to view during our normal opening hours until Saturday 2 July 2022.
L-INK are a group of young people who work with the Laing Art Gallery to produce artworks, events and explore collaborative practice.
On loan from the National Portrait Gallery, London, portraits of Marcus Rashford and Josephine Baker have been chosen by L-INK to go on display in our collection gallery, following an expansive conversation about our heroes, or icons – and what that idea means to us today.
This display forms part of an ongoing dialogue drawing upon themes the group have identified within the Lindisfarne Gospels, which will be on display at the Laing Art Gallery, from 17 September - 3 December 2022, on loan from the British Library.
Both of the people represented here appealed to the group particularly, as each have been hailed as activists and celebrated for their vigorous campaigning to bring about political or social change.
This display has been created in partnership with the National Portrait Gallery as part of their transformational Inspiring People project which includes an extensive programme of nationwide activities, funded by The National Heritage Lottery Fund and Art Fund. npg.org.uk/inspiringpeople
---
Josephine Baker

Born in St. Louis, Missouri, Josephine Baker is one of France's most celebrated performers.
Settling in Paris due to active segregation and becoming the first black woman to be honoured in the Panthéon, Baker's performances were significant in redefining racial and gender barriers during the 1930s.
As well as being an entertainer, Baker was a spy during World War II, a civil rights activist and an open bisexual, who used her position to fight against the Nazi regime and combat racism and segregation which she had personally experienced. Josephine Baker represents what it means to be an icon, evidenced in her battle for racial equality and freedom for all.
Marcus Rashford
At 24 years old Manchester United footballer Marcus Rashford MBE has become a contemporary icon, campaigning against child food poverty in the UK.
During the lockdown of 2020, Rashford petitioned the Government to prolong the free school meals scheme over the summer holidays. Rashford has aided many children and families in need, having seen what it was like to grow up in poverty and having used the scheme himself. Rashford utilises his platform to speak out on important societal issues and opportunities. His continued achievements as a young black man, his tenacity, and his authenticity make him a role model for the 21st century.
---
Text by Katie Carr, L-INK group member
Image: Marcus Rashford by Misan Harriman, 2020 © Misan Harriman/Conde Nast 2020

Inspiring people (NPG)