COMING HOME: Sir Ridley Scott
This is a historic exhibition. It is no longer available to visit and this page is only retained as a record of the previous event. For current and future exhibitions, visit our
What's On
page.
In partnership with the National Portrait Gallery, London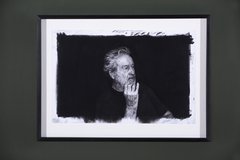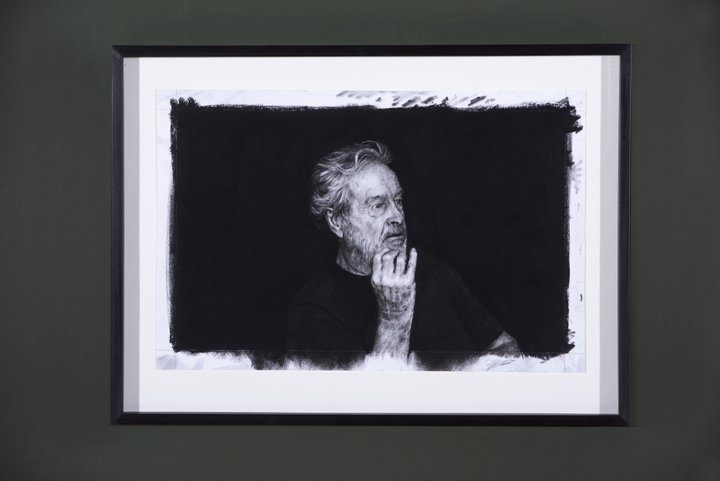 Until 27 March 2021 (historic exhibition)
A portrait of acclaimed film director Sir Ridley Scott has been loaned to the Laing Art Gallery from the National Portrait Gallery in London as part of its COMING HOME initiative, which sees portraits of iconic individuals being loaned to places across the UK with which they are most closely associated.
Scott was born in South Shields, Tyne and Wear in 1937 and his films include Alien (1979), Thelma and Louise (1991) and Academy Award-winning drama Gladiator (2000). He was knighted in 2003 for services to the film industry and in 2018 received the BAFTA Fellowship Award.
The drawing is by Nina Mae Fowler and is part of a larger series that the National Portrait Gallery in London commissioned of leading film directors.
The artist captured the portrait of Scott with his face lit only by the light of the screen in an otherwise darkened space. Scott chose to watch the scene from a film that was a major turning point for him and his relationship to cinema. The title of the portrait, "29:04:37", refers to the exact film frame the director is watching when Fowler captured his portrait.
The initiative will be supported by an online learning programme for teachers and schools. This will include two virtual CPD opportunities with Art Consultant Susan Coles, and a Portrait Challenge which can be set as classroom or home learning.
Whilst the gallery is closed there will also be a digital preview of the painting and digital content - when this is ready it will be shared on our website and social media.
COMING HOME has been made possible by the National Portrait Gallery, the Department for Digital, Culture, Media and Sport, generous contributions from The Thompson Family Charitable Trust and funds raised at the Gallery's Portrait Gala in 2017.
Watch the digital preview of the portrait here:
Learn more about our learning programme here:

The Word, South Shields | SIR RIDLEY SCOTT: PAST, PRESENT AND FUTURE VISIONARY | Online exhibition
---
Visit npg.org.uk to find out more about COMING HOME.
#PortraitsComingHome
Image caption: "29:04:37" (Sir Ridley Scott) by Nina Mae Fowler, 2019 © National Portrait Gallery, London