Visions of Ancient Egypt
This is a historic exhibition. It is no longer available to visit and this page is only retained as a record of the previous event. For current and future exhibitions, visit our
What's On
page.
Art, Design and the Cultural Imagination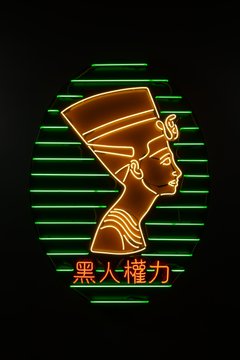 Until 29 April 2023 (historic exhibition)
Visions of Ancient Egypt: Art, Design and the Cultural Imagination
---
This exhibition examines the enduring appeal of ancient Egypt in art and design, exploring how ancient Egypt has been re-imagined across time to suit different ambitions and to construct changing identities. It uses two important historic events as a point of departure – Jean-François Champollion's 1822 decipherment of hieroglyphs and Howard Carter's 1922 discovery of Tutankhamun's tomb.
Including paintings, sculpture, photography, fashion and jewellery, this wide-ranging exhibition traces how processes of re-invention, appropriation and subversion have generated multiple visions of Egypt since the Roman period. The Western fascination with ancient Egypt is explored side-by-side with Egypt's own engagement with its ancient past.
The exhibition features art works from antiquity to the present day and by artists including Joshua Reynolds, Lawrence Alma-Tadema, David Hockney, Chant Avedissian, Chris Ofili and Sara Sallam.
This exhibition is organised by the Sainsbury Centre in association with the Laing Art Gallery.
Cover image: Nefertiti (Black Power), 2018, Awol Erizku © the Artist, Courtesy Ben Brown Fine Arts
---
If you have a particular interest in Egyptian history, we recommend that you visit the Ancient Egypt Gallery at the Great North Museum: Hancock where you can see many perfectly preserved Egyptian artefacts, including some on loan from the British Museum.