The Pursuit of Beauty
A new display highlighting key pieces from the decorative arts collections.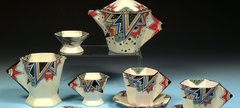 Opening Times
Monday - Saturday: 10am - 4.30pm
Closed Sundays and Bank Holidays
Donations welcome, free entry
The beautiful and functional everyday objects on display in The Pursuit of Beauty chart the changing tastes of Britain between 1860 and 1960. Although individual fashions changed, capturing beauty remained a central ethos.

The period's unique backdrop of industrialisation, warfare and economic instability led to a divide in ideology amongst decorative arts designers. Whilst some embraced the opportunity to utilise new materials and technologies to make their wares available to a wider audience, others rejected these changes, choosing instead to create unique handcrafted pieces.
The display features works by some of the most prominent designers of the period including Christopher Dresser, William De Morgan, Clarice Cliff and Eric Ravilious. Explore a selection of pieces from the Laing Art Gallery's decorative arts collections, from the nature inspired designs of the Arts and Crafts movement, through the vibrant colours and geometric patterns of the Art Deco movement, to the striking simplicity of handcrafted studio pottery.