The Enchanted Garden
This is a historic exhibition. It is no longer available to visit and this page is only retained as a record of the previous event. For current and future exhibitions, visit our
What's On
page.
An original exhibition by Laing Art Gallery incl Monet, Morris, Rosseti & more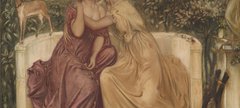 Until 7 October 2018 (historic exhibition)
We need your feedback!
If you have recently visited The Enchanted Garden exhibition, we would love to hear your thoughts. Please spare a couple of minutes to fill out our survey - you could win a £50 Laing shop voucher too! Thank you.
From the Pre-Raphaelites and French Impressionists to the Bloomsbury Group and 20th century abstraction, artists have taken inspiration directly from the gardens around them. These secret, enveloping and sometimes mysterious spaces are seen through windows, in panoramas and often repeated in different lights and seasons. The Enchanted Garden will feature artists including Claude Monet, Edward Burne-Jones, Dante Gabriel Rossetti, Beatrix Potter, Pierre Bonnard, Lucien Pissarro, William Morris, Patrick Heron, Francis Bacon, Stanley Spencer, Vanessa Bell, and Duncan Grant.

The Enchanted Garden will bring the Laing's painting 'The Dustman or The Lovers' by Stanley Spencer into the context of major works by British and French artists from across the UK and beyond which explore the garden as a 'stage' for the extraordinary, the magical, the atmospheric and the nostalgic.

This exhibition is curated by the Laing Art Gallery, with generous support from the John Ellerman Foundation. Also supported by the Friends of the Laing Art Gallery, the Finnis Scott Foundation and the Golsoncott Foundation.