Quentin Blake: Inside Stories
This is a historic exhibition. It is no longer available to visit and this page is only retained as a record of the previous event. For current and future exhibitions, visit our
What's On
page.
An exhibition from House of Illustration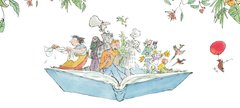 Until 9 July 2017 (historic exhibition)
This exhibition from House of Illustration gives a unique insight into the origins of some of Quentin Blake's most characteristic and popular creations, from his illustrations for Roald Dahl's classic Children's books to The Boy in the Dress by David Walliams. Quentin Blake: Inside Stories demonstrates Blake's use of a wide range of different techniques and media including inks, watercolours and pastels to create his distinctive and unforgettable illustrations.
First roughs, storyboards and finished artworks demonstrate how Blake's ideas evolve, often in close collaboration with the authors. The exhibition also features his illustrations for books by John Yeoman, Russell Hoban and Michael Rosen. Quentin Blake: Inside Stories brings together more than 100 pieces of original art.
---
Did you enjoy the exhibition?
Please let us know what you thought of our Quentin Blake exhibition by taking a short visitor survey. You will be entered into a free prize draw to win a £50 Amazon voucher. The winner will be chosen at random on 27 July 2017.