Pre-Raphaelite Qualities
This is a historic exhibition. It is no longer available to visit and this page is only retained as a record of the previous event. For current and future exhibitions, visit our
What's On
page.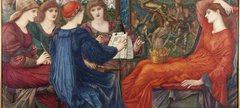 Until 2 September 2018 (historic exhibition)
The 18th and 19th century gallery will be transformed by the exhibition 'Fantasy Landscapes, Portraits and Beasts', curated by artist Glenn Brown, bringing together a new collection by this artist alongside paintings found in the 19th century gallery. Pre-Raphaelite Qualities is an exhibition of some of the other works normally found in this gallery.
Pre-Raphaelite Qualities

This display of pictures from the Laing's collection is focussed around Laus Veneris by Sir Edward Burne-Jones, who was the most important painter of the second wave of Pre-Raphaelite art. Also on show are pictures by Pre-Raphaelite followers such as Arthur Hughes and the Newcastle artists H H Emmerson and Charles Napier Hemy. Alongside these, Daniel Maclise's large painting of King Alfred in a Danish encampment reveals links between Pre-Raphaelite style and mainstream Victorian art.
Pre-Raphaelite art featured bright colour and sharp detail all over the picture. The artists began their paintings with a layer of white, which shone through the colours, making them even brighter. The Pre-Raphaelite Brotherhood, founded in 1848, aimed to achieve the 'truthfulness' of art before the time of Raphael and Italian Renaissance.
(Isabella and the Pot of Basil, by premier Pre-Raphaelite artist William Holman Hunt, is on display from June 16th in an adjoining gallery showing new works by international artist Glenn Brown with pictures from the collection selected by the artist).