New Perspectives: Outside In
A creative collaboration with the Laing and L-INK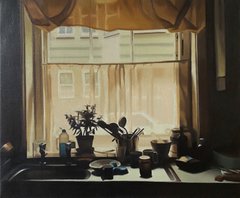 Opening times
| | |
| --- | --- |
| Monday | 10am - 4.30pm |
| Tuesday | 10am - 4.30pm |
| Wednesday | 10am - 4.30pm |
| Friday | 10am - 4.30pm |
| Saturday | 10am - 4.30pm |
| Sunday | Closed |
| Bank holidays | Closed |
* (excludes bank holidays)
You do not need a ticket to view this exhibition.
Donations welcome, free entry
New Perspectives: Outside In
The Coronavirus pandemic has shifted perceptions. After a year of being in lockdown, the relationship we have to domestic and interior spaces has invariably altered. Many of us have reassessed the relationships of significance in our lives and how they relate to the spaces within which we occupy our lives.

Since January 2021, the Laing Art Gallery's young people's group L-INK, have come together online to engage in a process of creative collaboration with the aim of co-curating a new display. The resultant exhibition here reflects the varied discussions had between the group as they explored issues surrounding identity in relation to domestic spaces within the confines of their own homes.
Two new acquisitions by the artist Mike Silva provide the central inspiration for the exhibition. They represent alternative perspectives of intimacy, both to people and familiar spaces. Members of the group bring their individual perspectives to respond to Silva's works through an exploration of the Laing collection. Significant pieces included within the exhibition include those by Linder Sterling, Eduardo Paolozzi, and a curious work by an unknown artist long held within the archives and never-before displayed in the gallery. This exhibition invites you to think about the similarities and differences in the perceptions of interior spaces presented here, and how you occupy and present your own interior spaces.
---
Text by Ella Nixon & Caitlin Milne
Image: Mike Silva, Kitchen Window, 2020, courtesy of the artist and The Approach
This display is curated by L-INK. L-INK are a group of young people who work with the Laing Art Gallery to make exhibitions, produce events, work with artists and create artworks.
L-INK 2021 participants are: Remy Harkensee, Caitlin Milne, Andrew Parr, Naomi Harrison, Caroline Reeves, Katie Carr, Ella Nixon, Lizzie Jatwa, Angelica Jones, Chloe Myers & Emma Gaukroger.
This activity was made possible using public funding by the National Lottery through Arts Council England and Creative Scotland, and with the support of Art Fund.

L-INK 2021/22: are you aged between 16-24 years old and interested in art, working with artists, curators, collections? L-INK are looking for you! Applications for our young people's group are now open.

ARTIST ROOMS lock up