New Perspectives: L-INKing Communities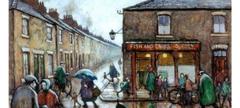 On display until Summer 2024
Home is not always a place, is it?
-Charlie Mackesy, The Boy, the Mole, the Fox and the Horse
We are all part of a community. Some communities we choose; some are chosen for us.
We find community where we live, learn, socialise and practise our beliefs. Our communities include the families we are born into, the families we select, our friends, colleagues, and the society we are all part of. Our communities offer us space and support to share interests, ideas and values.
Community means different things to different people. This display, curated by L-INK, brings together artworks that explore the architecture and activity that communities share. To us, community offers comfort, it means home, it means belonging.
This display is curated by L-INK, a group of young people who work with the Laing Art Gallery to engage in a process of creative collaboration.
L-INK 2023 are: Rea Gkarouli, Sara Gkarouli, Andrew Parr, Naomi Harrison, Katie Carr, Amber Horner, Sidney Parker-Fuller, Felix Day, Bella Di Vittorio and Artemis Potter.
With support from Dale Glenister