Khyal: Music and Imagination
This is a historic exhibition. It is no longer available to visit and this page is only retained as a record of the previous event. For current and future exhibitions, visit our
What's On
page.
Indian classical music meets the visual arts in a multimedia exhibition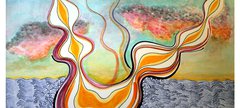 Until 16 November 2016 (historic exhibition)
Khyal: Music and Imagination is a multimedia exhibition that brings together visual artists and musicians to explore diverse visual responses to Indian classical music.
The exhibition features original artworks by Adinda van't Klooster, Mahjabin Imam Majumdar, and Theresa Poulton, which can be viewed while listening to the music that inspired them. Works by professional artists are displayed alongside pieces by school children from the north east of England, who were invited to respond to the same music.
For visitors who wish to explore the music itself in more depth, a unique interactive app is presented here for the first time, developed by musicologists as part of the same project.
The project Khyal: Music and Imagination is based at Durham University, in collaboration with GemArts, and funded by the Arts and Humanities Research Council. Featured singers include Veena Sahasrabuddhe, Ranjani Ramachandran, Sudokshina Chatterjee, Surashree Ulhas Joshi and Atul Khandekar.