L-INK 2019 2020
L-Ink is the Laing & Hatton Art Gallery's young people's group, for anyone aged between 15 and 21 who loves art or who wants to pursue a career in art. In this article, we take a look at what they got up to during 2019 and 2020...
Who or what is L-INK?
L-INK are a group of young people who work with the Hatton Gallery and Laing Art Gallery to organise events, work with artists and create artworks.
L-INK is an annual project, which usually runs from October – June each year. In the past, L-INK have worked on facilitated projects with gallery staff, and have had the opportunity to meet artists, curators and different gallery teams; they have created artworks and events and made & delivered creative interpretations of works from Hatton & Laing Collections.

L-INK 2019/20 was made possible by ARTIST ROOMS made with Art Fund and Arts Council England support. The project used the Hatton Gallery's ARTIST ROOMS: Roy Lichtenstein exhibition as a starting point to explore popular culture through a variety of media, including painting, printmaking, zine-making, curating and through collaborative practice. The project has also drawn upon the Hatton's existing relationship with Pop Art, through the works of Richard Hamilton and Victor Pasmore and explored what 'popular' art has comprised in an historical context.
Here is everything you need to know about the L-INK 2019/20 project, (mostly) in their own words…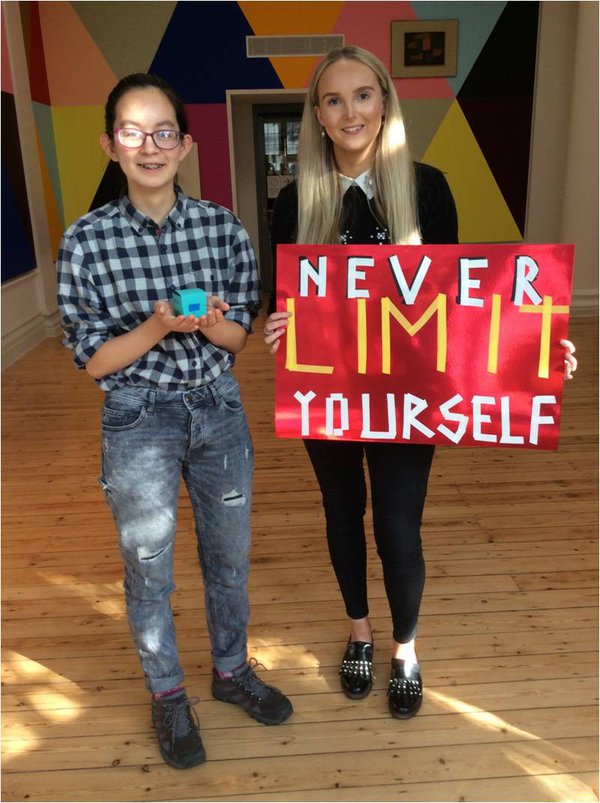 Hello L-INK! Tell everyone what have you been up to during the 2019/20 project…
Throughout L-INK 19/20 we have explored a range of topics surrounding artist Roy Lichtenstein and current events. During this time we curated an exhibition titled 'L-INK to Lichtenstein' where we each created a personal piece of artwork in the style of Roy Lichtenstein.
We have had a zine making workshop with Mani Kambo and we discussed, created and collaborated as artists in a new studio space at The Newbridge Project.
We had a Lichtenstein-themed exhibition in the Long Gallery beside the Hatton back in December 2019. In 2020 we established our own group studio space at The NewBridge Project in Newcastle City Centre to expand the environment in which we can carry out our group practice.
Over the course of the L-INK 2019-20 project we have learned about Pop Art. We produced our own artwork in response to Roy Lichtenstein and we exhibited some of it last year, We have worked collaboratively as we have discussed different ideas for the project, such as art works, exhibitions, and more recently, solutions which would allow us to continue producing and sharing work during the pandemic.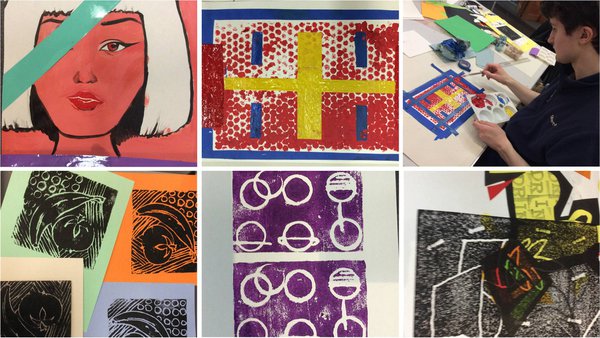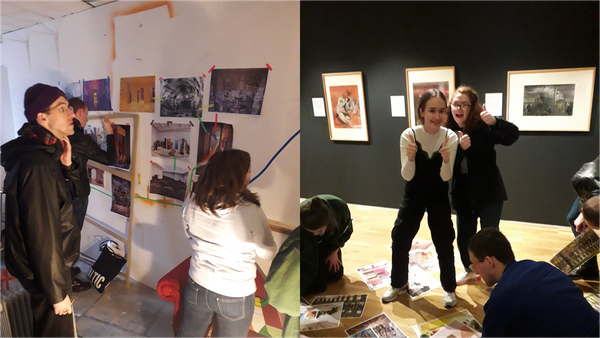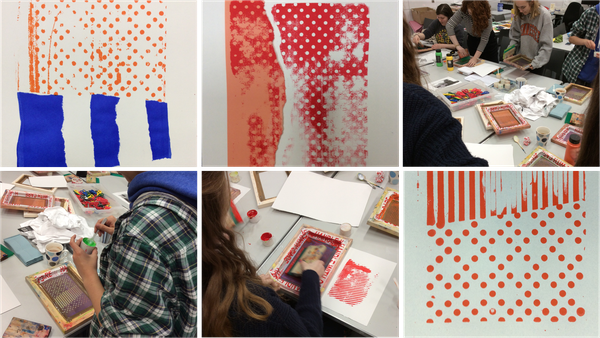 L-INK to Lichtenstein
L-INK to Lichtenstein was a pop up exhibition for which L-INK participants created their own artworks inspired by the ARTIST ROOMS: Roy Lichtenstein exhibition. The group worked with artist Jamie Hammill to curate their exhibition in the Long Gallery at Newcastle University, right next door to the Hatton.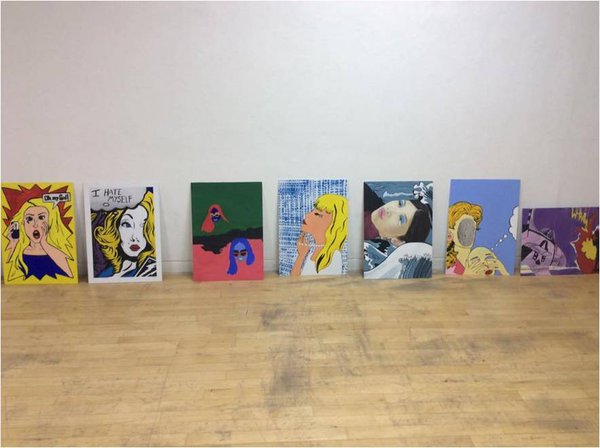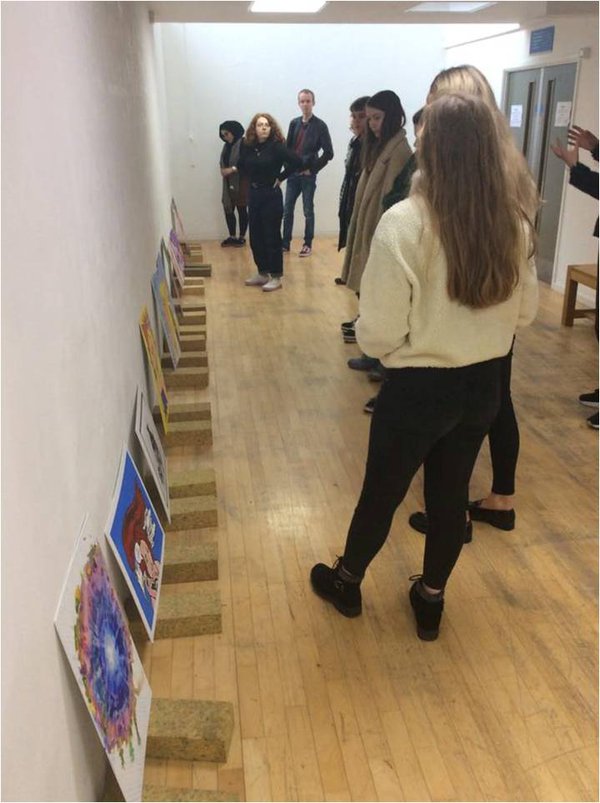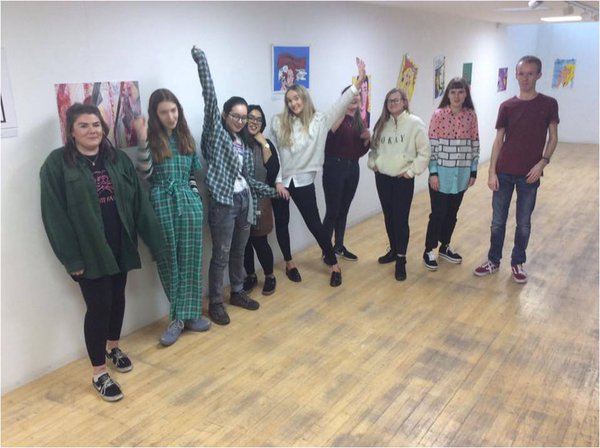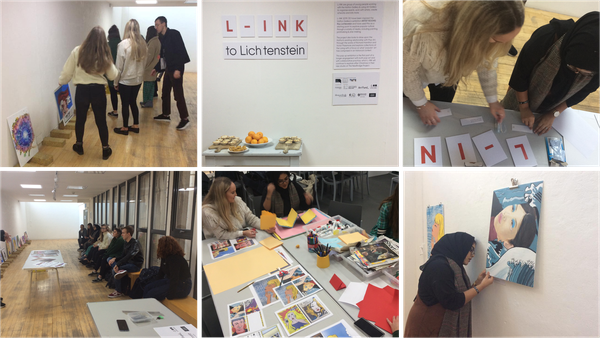 Samia Mohammed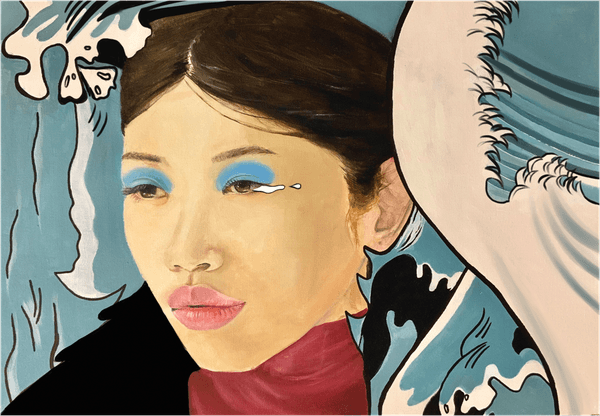 Molly Wilson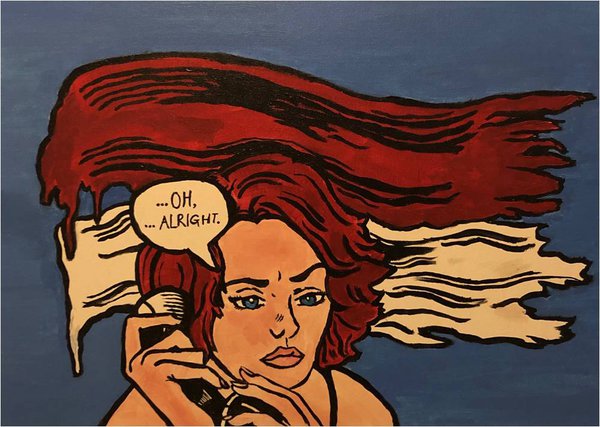 Remy Harkensee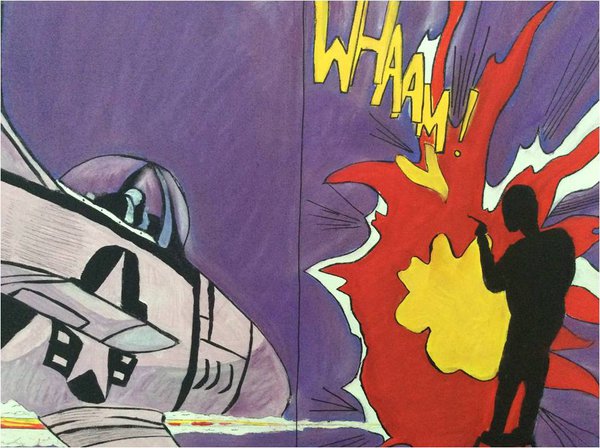 Katie Carr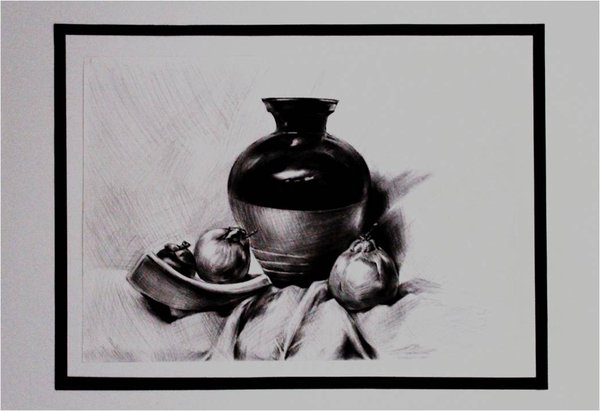 Naomi Harrison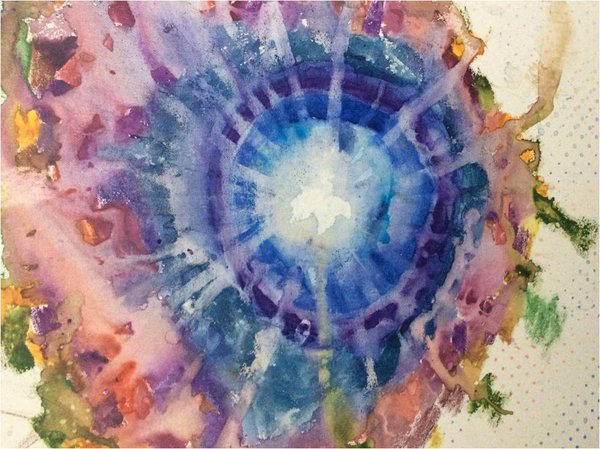 Lulu Jowett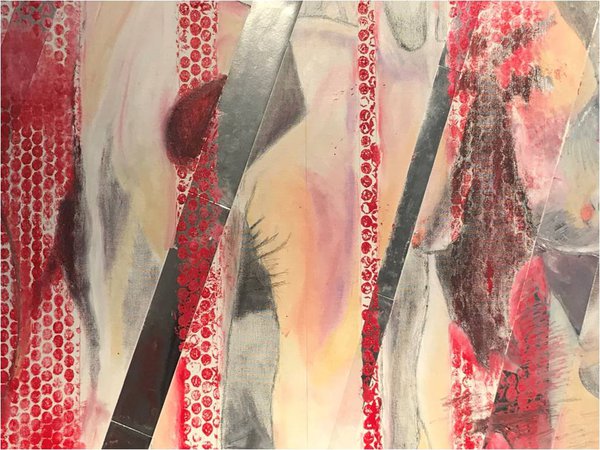 Maisie Goodfellow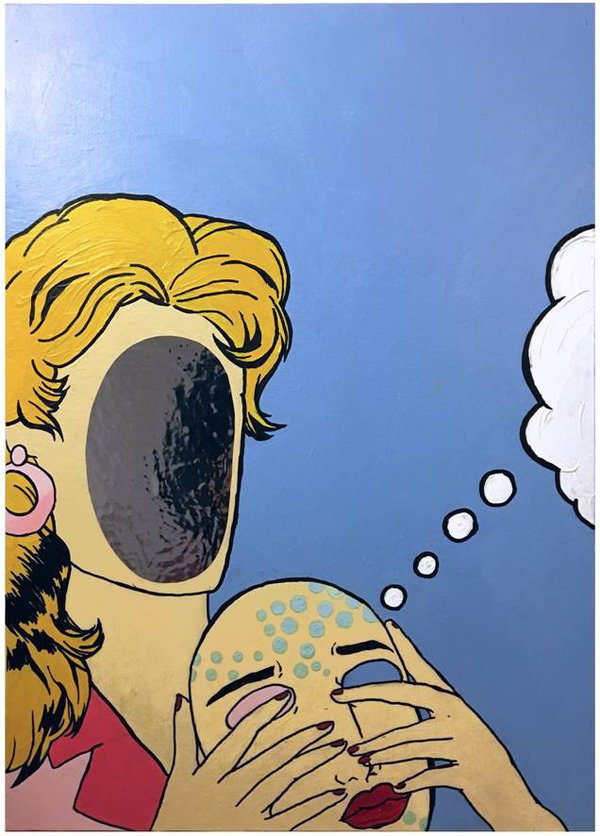 Rosie Underwood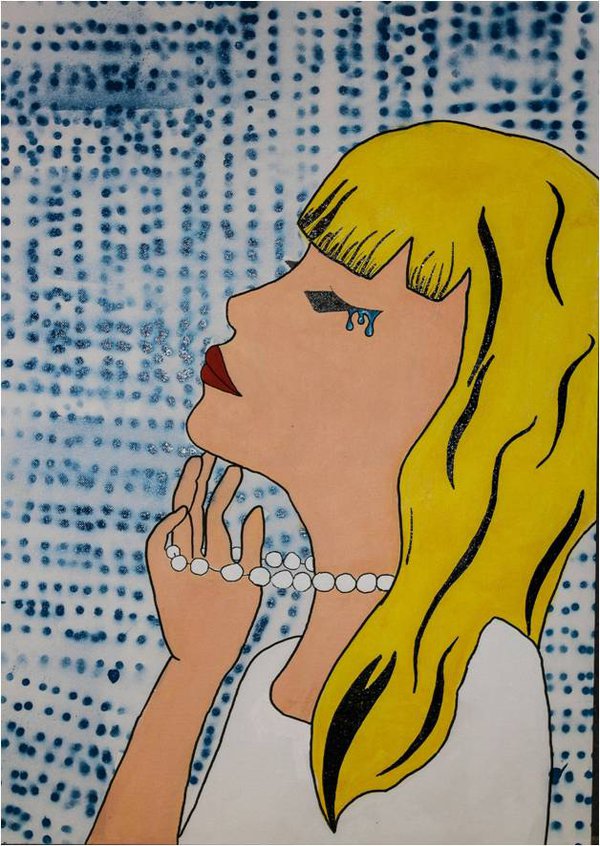 Claire Robson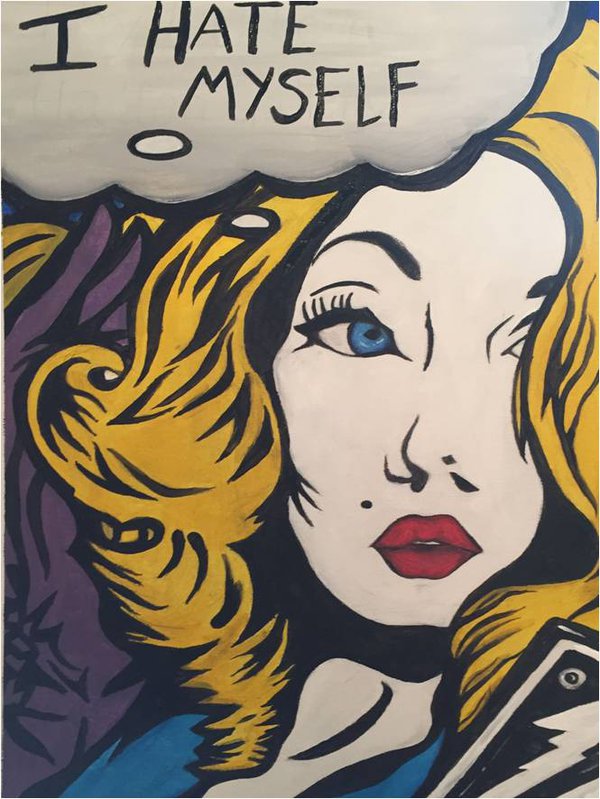 Elspeth Robinson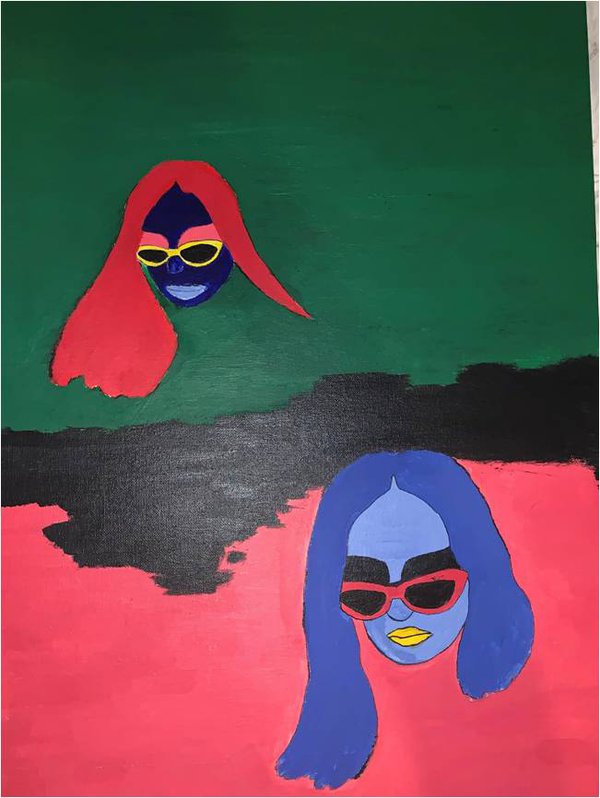 Andrew Parr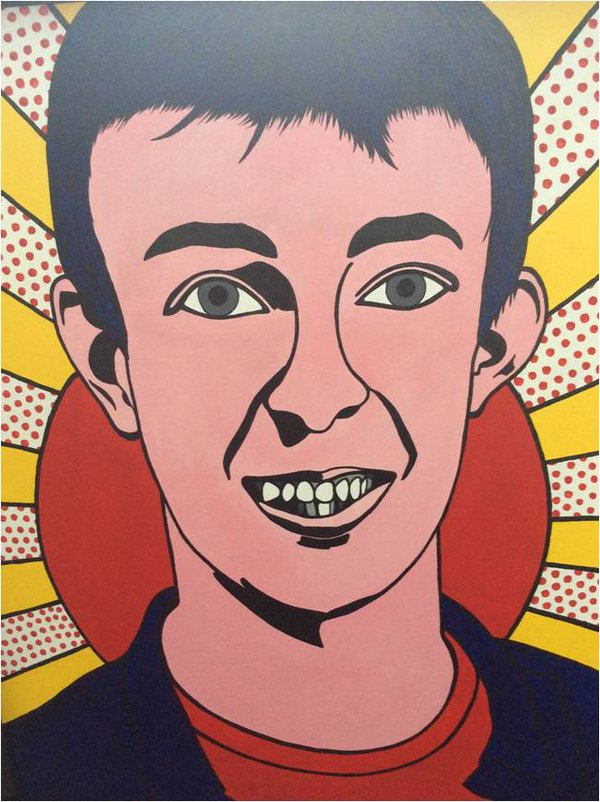 Charlotte Swindell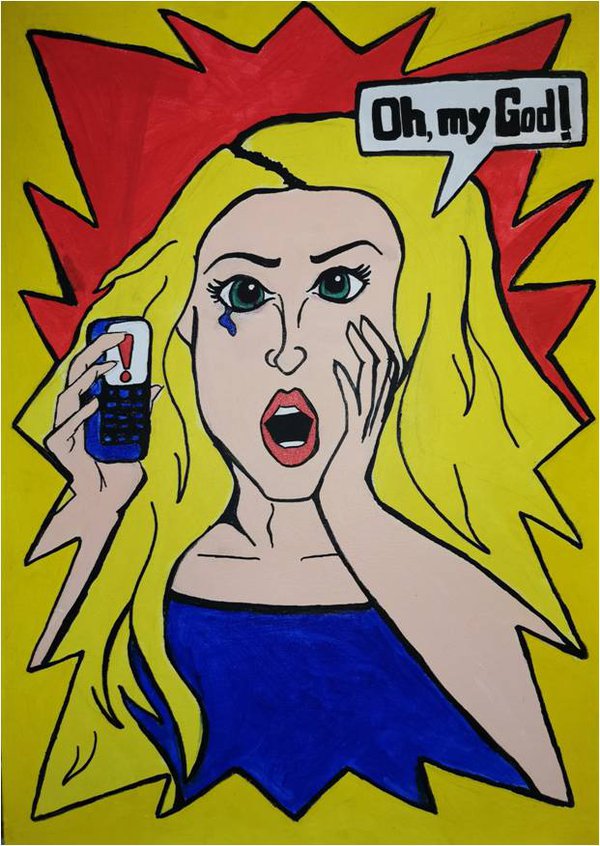 How did you feel about putting your exhibition together?
It was good that we had to do it quickly though because if I'd had more time to think about it I don't think I would have done it as well as I did. I knew we just had to make something and I did it.
It was really nice to see people walking around and looking at the work

There are no comparisons to doing this. I have never done anything like this before.
It was good to work with Jamie [artist & curator Jamie Hammill] – really interesting to work with someone who has exhibiting experience. We learned that eye level is 145cm – I've never thought about an audience before, or how they look at artwork. We also learned that everything doesn't have to be eye level – and exhibition can be more creative. Jamie showed us lots of pictures and helped get our ideas going

I felt really nervous when our exhibition was actually up and we took all of the other stuff out. I've never seen my work presented like that. It was very professional – totally different to school. Art school, we have to show all of our coursework and the whole project not just let one work stand on it's own.
I loved the whole experience. It was fun!
People had very nice things to say about the exhibition:
Great exhibition it's interesting to see new artists work and responses to the current exhibition – thank you!
Great to see responses to such seminal works and such a wide range of approaches taken. Particularly likes the works which explored modern identity or used the original stimulators and took them somewhere completely different. Well done artists and well done the Hatton!
What a brill idea, to involve so many different perspectives on work about a world we all live in! The surface and depth in the theme is wonderfully explored by all these young artists. Bravo & well done!
Very creative responses to the Roy Lichtenstein exhibition works on display. Its obvious that a lot of effort has gone into creating the pieces – well done!
Impressive work and well worth braving a cold winter's day to see the Link - Lichtenstein exhibition. The works really drew my attention – Well done everyone!!
An excellent display of work by all the Young People in the L-INK group.
A good variety of interpretation of Lichtenstein's work. I look forward to their next event – Well done everyone!
It's always good to see Young People react to good art and this exhibition shows that very well. There is a wide range of responses which befits the uniqueness of each person involved. I am impressed by commitment and hard work, and more so by ability. There is a lot of it here. I will be pinching one idea from this work (oops!) – Thoroughly enjoyable exhibition!
Fantastic exhibition, great work by talented young people. Well done to all involved.
Great artwork concepts – grew up with Pop Art and this was a really good twist on this. Great work! -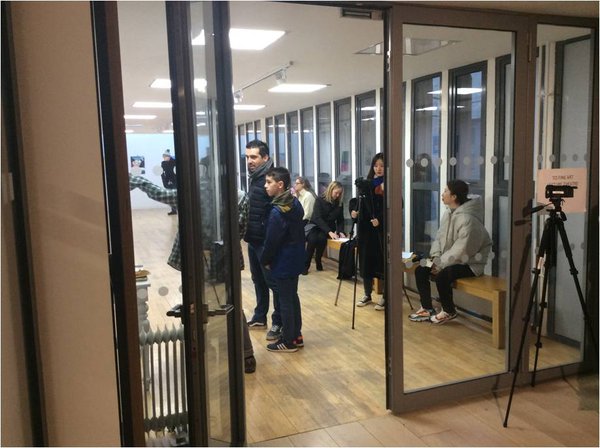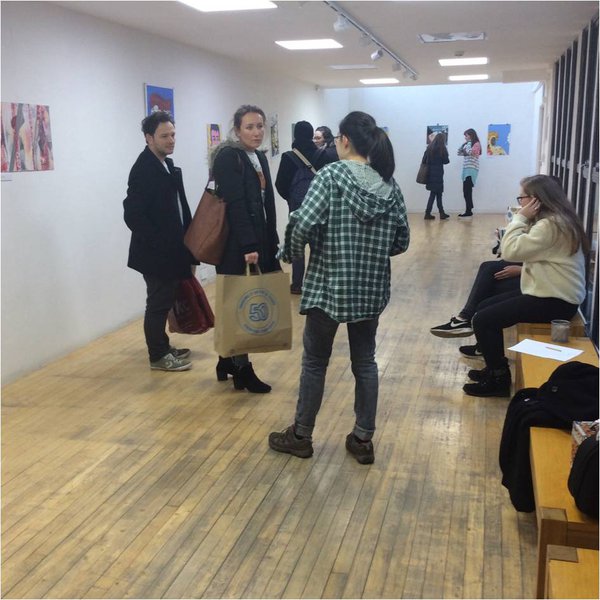 Studio Edit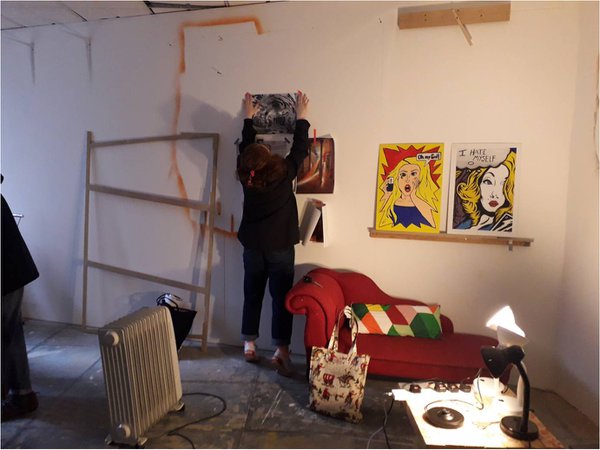 During the L-INK 2019/20 project, the group also had access to a studio space within The NewBridge Project in the heart of Newcastle, to grow as a group and develop their own art practice.
Well, that was the plan…
…the idea was to enable the group to meet other artists & get involved with a real artists community and to get involved with studio events The studio would have been a space to make their own artwork as well as working with the rest of L-INK, and have an opportunity to exhibit the work as part of L-INK 2019/20 project.
However, because of COVID-19, L-INK were only able to use their studio for a couple of months before we went into lockdown. But this group are tenacious and they didn't let the pandemic curb their creativity!

We love our studio!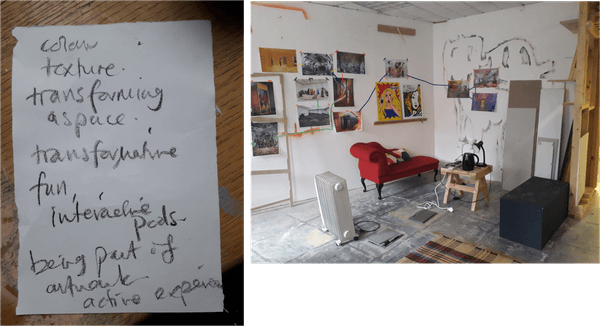 What happened next: Lichtenstein's Picnic
Lichtenstein's Picnic is a collage response to Lichtenstein, his work, and his thoughts on art. We did some research and found that Roy Lichtenstein described his work as: anti-experimental, and anti-contemplative, anti-nuance, anti-getting-away-from-the-tyranny-of-the-rectangle, anti-movement-and-light, anti-mystery, anti-paint-quality, anti-Zen, and anti all of those brilliant ideas of preceding movements which everyone understands so thoroughly.
We used this statement as well as our discussions about performance to create an inclusive picnic involving foods, drinks and patterns that somehow relate to Lichtenstein and our research/ideas.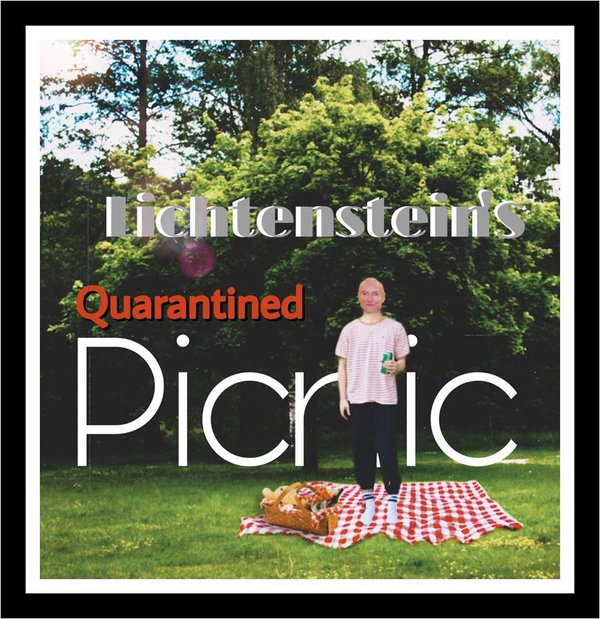 Lichtenstein's Picnic is a fictional narrative we came up with as a group to visually create using our own unique practical art skills with a wide range of mediums. All of these works have made use of key visual motifs of Lichtenstein's own practice to create aesthetical continuity.
Yes, our ideas had to be recreated digitally. As a group, we all took images of patterns, trees and crockery (etc) and using our collected images we have each made a collage interpreting Lichtenstein's picnic.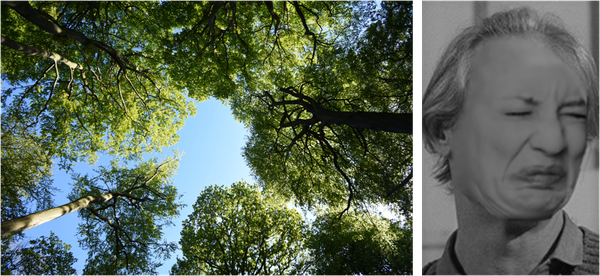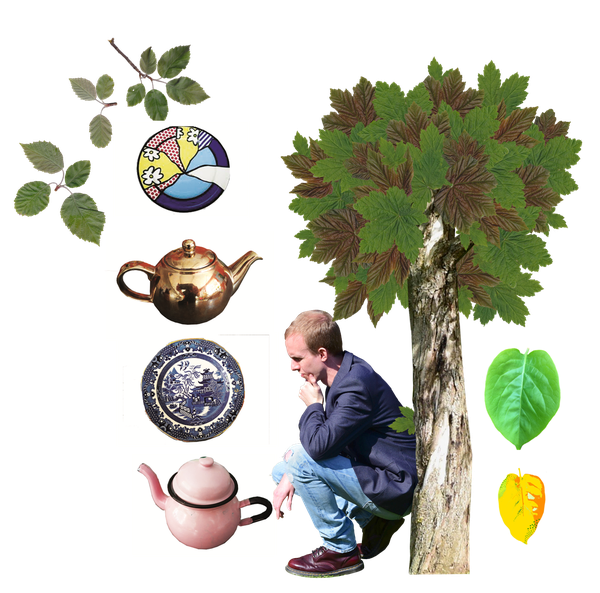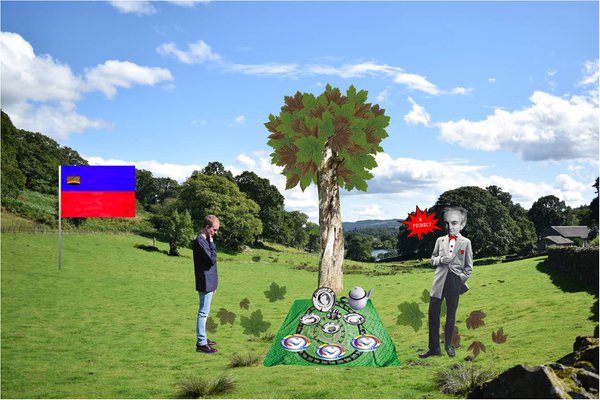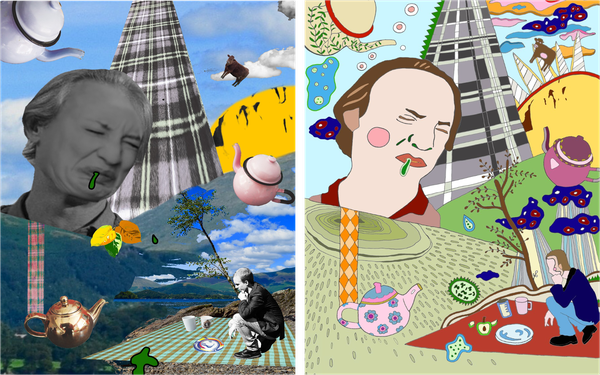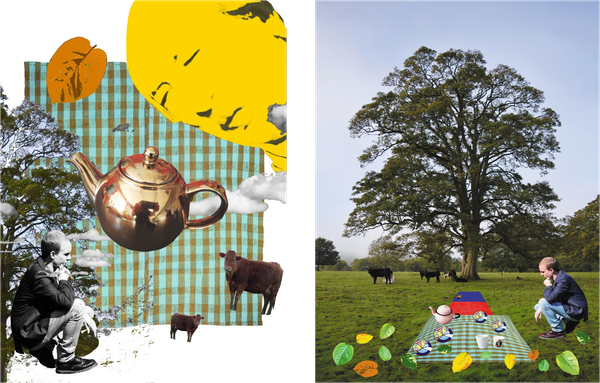 I didn't have access to a colour printer during lockdown, so I looked through magazines (fashion magazines, National Geographic, etc) and found images relevant to the projects (for example, motifs which took direct inspiration from Lichtenstein's body of work, the research we did as a group surrounding it, and the 'picnic' theme, such as the ceramics).
I cut cloud-inspired shapes to fill the 'sky', and cut hills from images of forests, before adding the smaller details I had cut from magazines and printed images of Lichtenstein on top of this, choosing from several options to create what I felt was the most effective composition. I also added some details which I found personally effective or amusing, such as the cats (I also felt that their colours were visually effective with the rest of the collage). I initially considered incorporating original painting or sketching with the collage, but I am happy with the final version in which the whole of the (A3) page is covered with cuttings.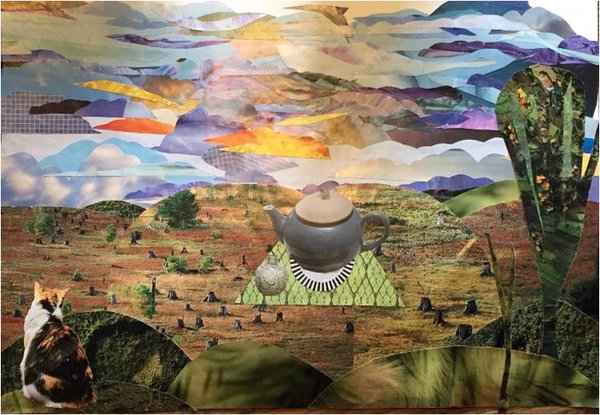 We were going to create an interactive installation about Lichtenstein's Picnic for the Later Shows in May this year, but…although the Late Shows unfortunately could not go ahead this year due to the COVID-19 pandemic, we have produced a range of Lichtenstein-inspired collages and/or food recipes to display virtually online using our own imagery.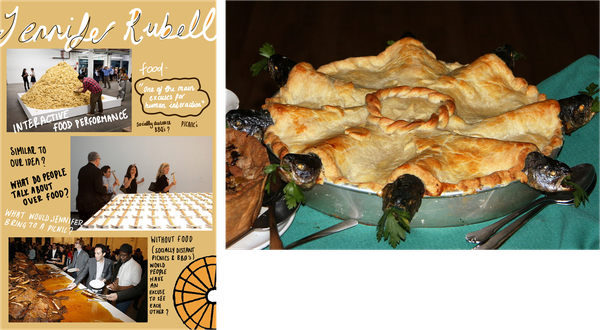 We also thought about other artists who might like to have picnics and we started making recipes…!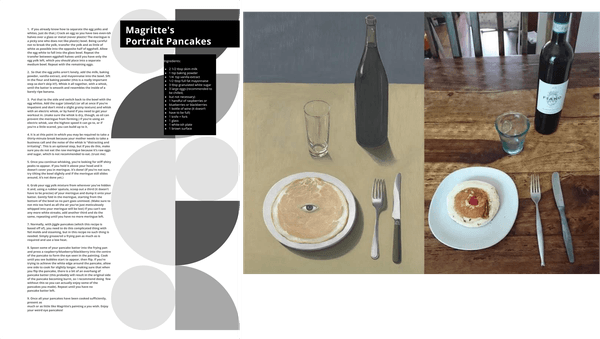 What have you enjoyed most about being part of L-INK 2019-20?
Working together with a diverse group of people who I normally would never have talked to or interacted with otherwise.
I have most enjoyed discussing and collaborating with an amazing group of like-minded people and being able to hear and share ideas on artwork/ related topics. I have enjoyed exploring the exhibitions on at the Hatton and the Laing Art Gallery. Particularly delving into the Lichtenstein exhibit has broadened my knowledge of the Pop Art era. Creating art in relation to a specific artist has differed from my practice but has been very enjoyable and informative.
The project has allowed me to become more familiar with the local galleries and art scene in Newcastle.
The L-INK to Lichtenstein exhibition last December was the most fulfilling experience due to how professional it felt to present our collection of artworks to the public.
I enjoyed exhibiting my artwork with the rest of the group as I felt that it was very interesting to see our work in a different context (i.e, an open space rather than a work room) and to be able to see the public experiencing and commenting on our work.
The L-INK to Lichtenstein exhibition last December was the most fulfilling experience due to how professional it felt to present our collection of artworks to the public.
I enjoyed exhibiting my artwork with the rest of the group as I felt that it was very interesting to see our work in a different context (i.e, an open space rather than a work room) and to be able to see the public experiencing and commenting on our work.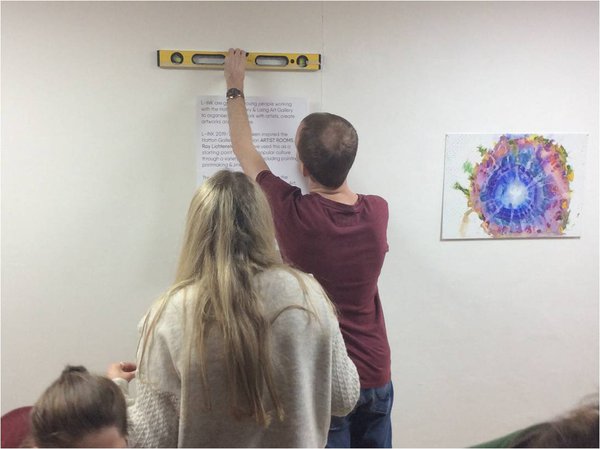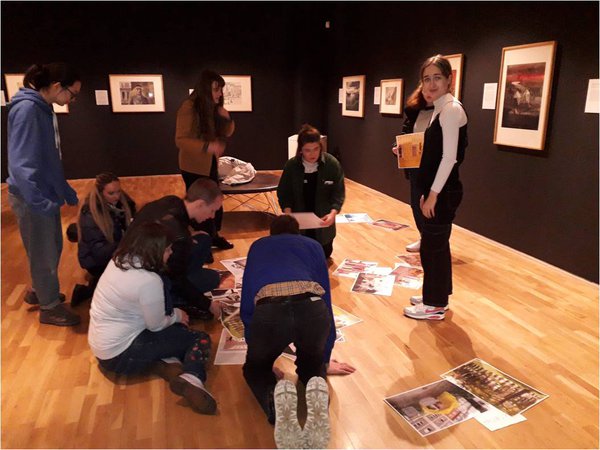 What are you missing most about the project since we've been in lockdown?
What I miss most since being in lockdown is the face-to-face, social interactions that helped define our collaborative work. I find it easier to understand how to move forward with the project when we are all talking about our ideas together in person.

I really miss The Newbridge Project building as I loved the feeling of the collective space shared between artists and was very excited to have access to and use the studio there! I was also looking forward to another physical exhibition.
Shared snacks. :( Oh and getting to talk with everyone else in the group without a screen between us.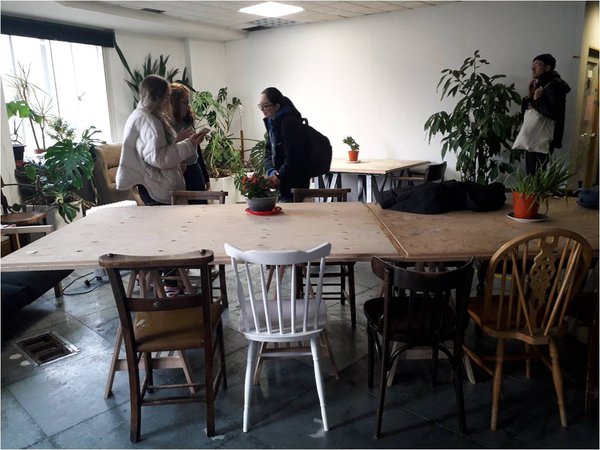 In what way(s) has being part of the project helped you develop your own artistic practice?
This project has given me the understanding that artworks have their own language and can be read in different ways – I have noticed that a lot of modern and contemporary art encompasses a lot of history, but more than that, it involves more than that it involves more than one person in it's curation and understanding

Working on this project has introduced me to different practices and perspectives which have encouraged me to explore more modern and contemporary art
Working with the group has made the idea of engaging with contemporary art less intimidating. Looking at collaborations within the art world and joining this group makes sense of uncertainties I have about modern art
Being in L-INK has helped me to expand my artistic vocabulary and shown me the importance of researching and giving the artworks context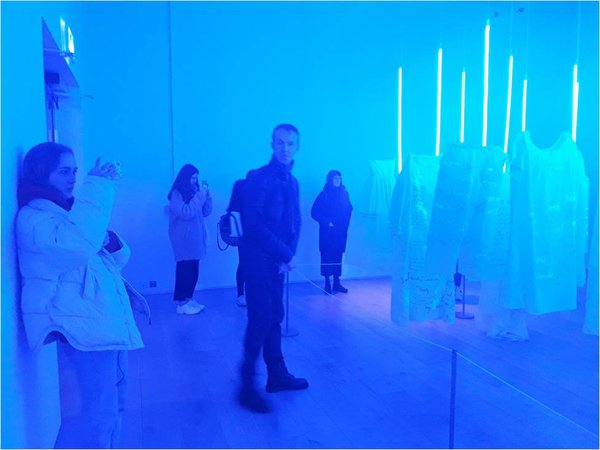 The project has helped me to better understand the process of exhibiting work, the local galleries and the art community.
I got to try things I don't think I would have wanted to or been able to without L-INK. For example, screen printing didn't sound very appealing (also very expensive) so without L-INK I would never have got to try it.
Being a part of L-INK has helped me become more confident in expressing my opinion to others as well as being more relaxed in discussing/creating art. This, in turn, has allowed me to become more fluent when talking about my artwork.
Working alongside a group of people has shown me the importance and benefits of collaborating. Throughout L-INK we have experimented with different techniques and making skills, doing this has encouraged me to implement these into my creative practice.
We have talked about all sorts of things, like installation, site-specific artwork and sculpture and what these are and why they are different but can be the same. Working on this project has given me more vocabulary to use when talking about art but also in my own practice. It has opened pathways and my work has become more varied as I developed new skills.
It has boosted my enthusiasm in using software like Adobe Photoshop to produce digital collages which create opportunities for outcomes that are not tenable when relying sorely on the analogue, hand-made ways of working.
The thing I will definitely be most eager to do more of in the future would to put on more group exhibition for the public to best prepare us as a group for the professional arts industry that thrives on dialogue with the public. L-INK is a great mixture of discussing, creating, eating and collaborating. Going forward I would like to fulfil the events and ideas we had before lockdown.
Being part of L-INK has helped me consider all the ways in which you can read contemporary art. The more you understand about the context, the more you appreciate the work.
Working in the group has helped me to meet new people who are like-minded but who have many different qualities. Because of this, I have become more confident in my own ideas as well as becoming more accepting of other people's opinions. Engaging with modern and contemporary art is less scary and intimidating when there are others contributing their thoughts. - New and exciting ideas in contemporary art is something that being in this group has shown me.
Do you want to be part of L-INK next year? Would you recommend the group to a friend?
After being a member of L-INK for years now, I still continue to enjoy contributing to our project so I absolutely plan to return to this group once again next year for 2020-21.

Yes, I would like to be part of L-INK next year!
Yes! Love you :)
Yes!
Yes meeeee
Absolutely!
Absolutely! L-INK has given me great confidence in myself and provides amazing opportunities to develop my artistic practice.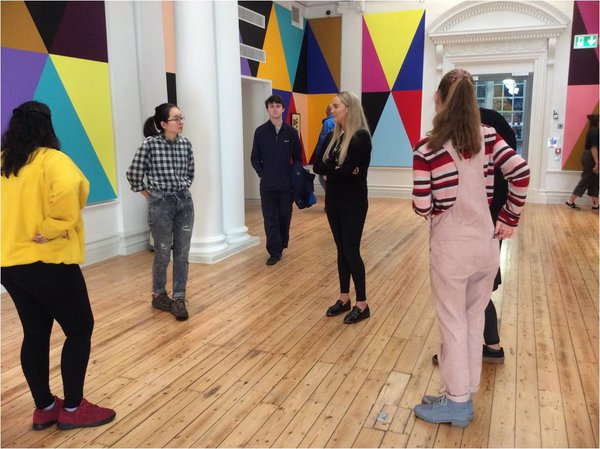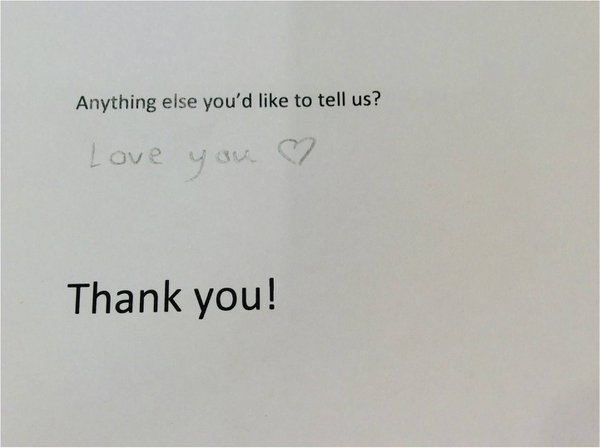 Acknowledgements
Over the last 10 years, National Galleries of Scotland and Tate have collaborated with more than 85 partners through the ARTIST ROOMS programme to present major exhibitions drawn from the ARTIST ROOMS collection for audiences across the UK.