Wings and Dreams with Moth Studios
Book now
Butterfly pinning workshop inspired by our Paul Nash exhibition from Tate Britain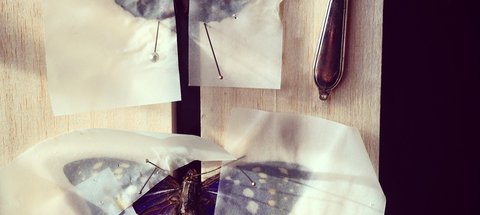 Time
12.30-4.30pm
Price
£52 per person
Booking
Book online or at the Laing shop
"In common with other human creatures, I have always been more or less attracted by the idea of being able to fly - Yet I never envisaged wings in the sense of 'attachable' equipment. Perhaps not wings atall, just a gift for flying. Like a gift for swimming and diving carried to an ace degree." - Paul Nash
Join artist and taxidermist Sherene Scott from moth Studios for a butterfly pinning workshop inspired by the themes of our Paul Nash exhibition.
One of the most imaginative British artists of the 20th century, Paul Nash had a fascination with flight, wings, dreams and assemblages. In this workshop you will connect with Nash's work among fellow art-lovers whilst learning a new craft technique inspired by nature.
Studying real pinned butterfly wings you will then use the skills you have learned to create a beautiful artwork to take home. The finished products will be decorative and formal but will echo the style of Nash's abstract, surreal and symbolic paintings.
Please note all specimens have been responsibly sourced.
Under-16s must be accompanied by an adult.