Ways to Play: Make
Playful activities for families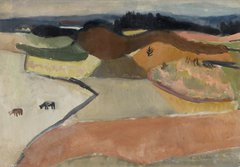 At this time of year, we are usually welcoming families and friends into the Gallery to take part in activities, have fun and spend time together. As our museums and galleries aren't able to open at the moment, we decided to bring some activities to you.
Please let us know if you have enjoyed them by sending pictures of your creations to our museum's social media pages Facebook, Twitter, Instagram.
Have fun and stay safe!
Make your own landscape using layered materials.
The Laing Art Gallery is home to a world-class collection of landscape paintings, including the one above by John McNairn.
Artists don't have to use paint, though. You can use any materials you like. Coloured paper and card. Newspaper and magazines. Junk mail or scraps of fabric. Cut or tear shapes and layer them to create your own landscape then glue it onto a piece of paper or card.
It could be somewhere you love to go or an imaginary place. Experiment with different colours and tones to create your own unique landscape.
About Ways to Play
Ways to Play is a new series of playful activities for families from Tyne & Wear's museums and art galleries. Click here for more Ways to Play.
---
Painting, oil on canvas, entitled 'Landscape, Midlem', by the artist John McNairn