Talk: Paul Nash exhibition curator from Tate Britain
Book now
Part of the Paul Nash exhibition programme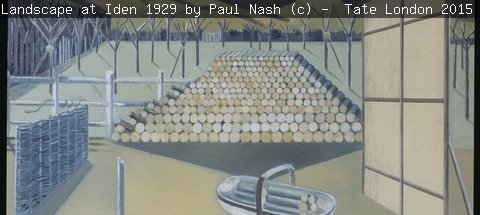 Time
12.30-1.15pm
Price
£5 per person
Booking
Book online or at the Laing shop
Paul Nash: Imagined Landscapes
Paul Nash is perhaps best known as a war artist who painted some of the most powerful works of the First World War, but he also shaped our experience of the landscapes of Southern England, through his paintings of the Kent and Dorset coast, the Chilterns and Sussex downs and through his explorations of England's ancient past at Avebury.
Throughout his career these landscapes were not merely observed places but also provided a stage for his investigations of supernatural forces and dreams through Symbolism and Surrealism. This talk will explore how these ideas shaped his approach to landscape throughout his career from his early drawings which explored the dream-like atmosphere of the moonlit night landscape, to surrealist landscapes in which reality and dream co-existed, and his late paintings of the Wittenham Clumps which Nash described as a 'landscape of the imagination'.
Join Emma Chambers, Curator Modern British Art, Tate, who curated the Paul Nash exhibition to hear more on this subject.