With Sarah Richardson, Keeper of Art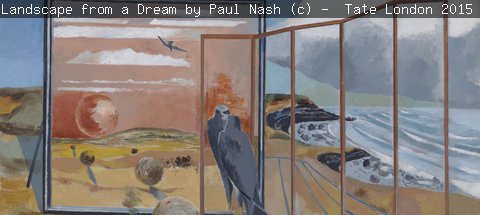 Time
12.30-1pm
Price
£3 + exhibition admission
Booking
Book online at the links below or at the Laing shop
Join curator Sarah Richardson for an enjoyable introduction to the much-anticipated Paul Nash exhibition.
The exhibition is organised by Tate Britain in association with the Laing Art Gallery and the Sainsbury Centre for Visual Arts.
---
Read our blog on Paul Nash's First World War experiences and paintings.
---
Reviews
These reviews reflect the exhibition in its original form at Tate Britain.
The Guardian
****
Pain, wonder and inescapable menace. Read more
The Telegraph
****
Paul Nash at Tate Britain is one of the year's essential exhibitions. Read more
The Times
****
This retrospective offers the first chance in 40 years to discover not just the full range but the true depth of this painter. Read more
TimeOut London
****
At his best, Nash combines surrealism and Englishness while avoiding both the superficial trickery of the former and the parochial lyricism of the latter. Read more
theartsdesk.com
****
Key themes recur, but the visionary landscape painter experimented constantly. Read more
Londonist
*****
One of Britain's greatest painters gets the show he deserves Read more
The Lady
*****
This is an exhibition that must be seen because it shows so well the breadth of this man's achievements.Read more