PATERN - Primary Art Teacher and Educator Regional Network
Book a ticket
Suitable for all primary art teachers, support staff, art educators.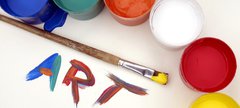 To book a FREE ticket please click on the link below;
4.30-6.30pm (Drop in session - come and leave us when you need too)
Parking-
Oxford MSCP – parking is FREE after 5pm and is the closest car park to the Laing. Parking via pay by phone available using location number 3652.
A new support network for primary visual art education in the north east of England, to support teaching and learning, creative and inclusive curriculum models and offer support for all areas of the subject, including an opportunity for practical workshops.
More meeting details to follow.
Refreshments Provided.