Primary Art Teacher Educator Regional Network Meeting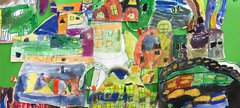 Following on from our success first virtual meeting in June, PATERN our Primary Art Network will next meet on Thursday 9th July 4:30-6:30pm via Zoom due to the ongoing situation with Covid-19.
To book a FREE space on TicketSource please click here.
The day before the meeting a link to join the Zoom meeting will be emailed to everyone that has booked a ticket to allow you access.
We will post updates on the PATERN facebook page (to find us there, search 'PATERN' in the search bar on Facebook). Alternatively drop us an email at learning@laingartgallery.org.uk
Content for the next meeting is still to be confirmed, and will be posted here in due course.
We are always looking to share new ideas relating to art in primary schools to share at future meetings.

If you have any suggestions or would like to present something you have been doing, please just get in touch via learning@laingartgallery.org.uk.