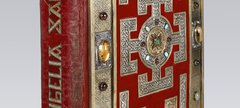 When
Limited availability remaining on the following Tuesdays, allocated on a first-come-first-served basis:
Tuesday 4 October
Tuesday 11 October
Tuesday 18 October
Tuesday 1 November
Cost
One class: £150
Two classes: £200
Booking
To make a booking, please fill out our enquiry form via the button at the top of this page.
One class: Lindisfarne Gospels package
Cost: £150
Day 1 – Lindisfarne Gospels In-School Assembly and Creative Workshops (can be booked from 1 June - 9 December)
Includes a whole school or year group assembly and one or two in-school workshops led by the Laing Art Gallery learning team.

Day 2 - Final availability on the Tuesdays listed above. This full day experience in the heart of Newcastle City Centre includes:
One class booked in for a facilitated guided tour of the Lindisfarne Gospels exhibition at the Laing Art Gallery (45 minutes)
One class booked in for a facilitated guided visit to Newcastle Central Library's complementary exhibition Story Telling Through the Ages exhibition (45 minutes)
One workshop at Newcastle Cathedral (1 hour 30 minutes)
The Newcastle Cathedral workshop will provide a spiritual context to the Gospels and Lindisfarne and the symbology of the book in Christianity.
Special Spiritual Spaces at Newcastle Cathedral KS1-3 (1 - 1.5 hours)
Join the Learning team at Newcastle Cathedral for a workshop that explores some of the reasons why people find certain spaces special and spiritual. Decorate columns, handle precious objects and create giant patterns in our beautiful medieval nave. This workshop explores R.E, History and Art and can be adapted for KS1- 3 groups.