Early Years Foundation Stage: Art & Design, Creativity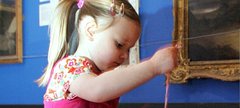 Until Thursday 22 September
Cost: £100
Workshop length: 1 hour 30 minutes
These workshops have been designed in partnership with Early Years providers and KS1 teachers. They will support a child's early experiences of an art gallery through hands on activities. Sessions are 1 hour 30 minutes. They include an interactive tour of the exhibition and time to make a creative response. Recommended ratio: 1 adult per 6 children.

Schools Membership Scheme
Save on workshop costs and enjoy a range of additional benefits by joining our yearly membership scheme
A workshop designed for younger children visiting the gallery for the first time. Children will investigate the building, art and objects on display by playing familiar games such as Eye Spy. They will learn about the variety of art you can find in a gallery and the different materials people use to make art.
Suggested topics include:
Portraits/faces
Shape and colour
Landscapes
Seasides