Exhibition Talk: Entrepreneurial Women in the Victorian Era
Buy tickets
With Dr Jennifer Aston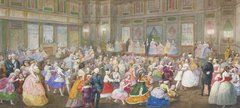 Time
12.30pm
Price
£5 (plus small booking fee)
Please note this ticket price does not include admission to the exhibition. This can be purchased separately on the day.
Booking
Book online here
Pre-booking essential
With Dr Jennifer Aston, Lecturer in Modern British History at Northumbria University

Dr Aston will reconstruct the biographies of female entrepreneurs to demonstrate how their position as business owners allowed them to operate far beyond the gendered expectations of 19th century society.
Image:
The Children's Fancy Ball at Buckingham Palace, 7th April 1859 by Eugenio Agneni (1816-1879)