Home Educators Virtual Explore Level Arts Award Briefing
Book Now
Information session for home educators on completing the Explore Arts Award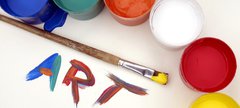 Times

Information session starts at 1pm and will run until 2pm
There will an opportunity for questions about Arts Award and completing the Arts Award at home at the end of the session.
FREE
Sign up instructions will be sent out closer to the date.
Do you want to find out more about Explore Level Arts Award but just don't know where to start?
The Laing Art Gallery education team will be hosting an online Explore Level Arts Award information session for home educated families.
This session will focus on Explore Arts Award and how you can work with your child to complete the Award at home with the support of the Laing Art Gallery. We will guide you through the process of completing the award from getting started to preparing to submit the work for moderation. Information will be provided about each section of award and you will receive ideas that you can use at home.
Explore level award can only be submitted by children over 7 years of age. We recommend parents with children from 6 years onward attend this session.