with Muddy Fingers Pottery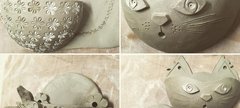 Time
1-3.30pm
Price
£35
Booking
Please note: the classes have limited availability so early booking is recommended.
Join Muddy Fingers Pottery at the Laing to make herb planters for your kitchen windowsill or outdoors! No experience necessary but we do ask that you are over 16 years old. All materials, equipment and firings are provided for you to create a pair of herb planters.
With two expert tutors on hand to advise and inspire, you will make herb planters of your own design during the afternoon session. Your planters will then be taken back to Muddy Fingers Pottery to be fired and glazed in a glaze of your choice, then will be dropped back off at the Laing Art Gallery around 3 weeks later for you to pick up and be amazed at how talented and creative you are.