Exhibitions Unpacked: Art Deco by the Sea
A short film about the exhibition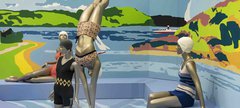 Until Tuesday 21 December
Join the Laing Art Gallery's Keeper of Art, Sarah Richardson, for a virtual tour of our exhibition Art Deco by the Sea in this short film.
Art Deco by the Sea is the first major exhibition to explore how the Art Deco style transformed the British seaside during the 1920s and 30s. Art Deco became the style of pleasure and leisure, as coastal resorts were modernised, new resorts established and transport networks modernised, to meet the needs of a new age in mass tourism. The show will celebrate iconic examples of seaside architecture, from hotels and apartment blocks to lidos and cinemas, and it will show how the Art Deco style permeated all aspects of life by the sea from fashion and furniture to fairgrounds and funfairs. The exhibition will include around 120 works drawn from public and private collections across the UK.
This exhibition has been developed by The Sainsbury Centre at the University of East Anglia, Norwich. Admission charges apply.