Develop Your Painting and Drawing
With Newcastle City Learning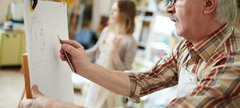 Starts 18 January for 11 weeks. End date: 4 April.
Time
Saturdays 2-4pm
Price
£77
There are concessions for unemployed and those on low incomes – ask for details of entitlement.
Booking
Visit www.newcastlecitylearning.ac.uk or call 0191 277 1630
This course is suitable for learners looking to expand their understanding of drawing and painting methods. During the course, students will experiment with different techniques in order to develop a more personal style of painting and drawing.
You will experiment with a range of drawing and acrylic painting techniques. You will explore using buildings, flowers and landscapes as subject matter. You will be encouraged to work from your own imagery. Your final piece of work will be reflective of the methods and ideas explored on the course.

Learners will be expected to provide all painting materials used in class. Materials will be discussed in depth at the first session. Estimated costs of materials needed are between £30 and £50. You will also require some photographs for use as reference material.

Please bring your acrylic painting kit to the first class.