In partnership with the National Portrait Gallery, London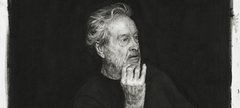 COMING HOME: Sir Ridley Scott Portrait Challenge
A portrait of acclaimed film director Sir Ridley Scott is going on show at the Laing Art Gallery in Newcastle upon Tyne. The portrait is on loan from the National Portrait Gallery, London as part of its COMING HOME project, which sees portraits of iconic individuals being loaned to places across the UK with which they are most closely associated.
Through schools young people aged 12-18 are invited to create a portrait in response to one of the three themes below:
At Home - look close
Coming Home - look out
Thinking of Home: look in
Here is a downloadable resource to support your challenge: 367805-portrait-challenge.pdf
Works will be exhibited in an online exhibition on the Laing Art Gallery's website in March 2021.The Portrait Challenge can be set as a classroom or home learning activity.
For this challenge we invite portraits of any kind and in any media: figurative or abstract, alone or in a group, from life or from memory. All works will be accepted. All works must be submitted digitally. We welcome a wide variety of medium including but not restricted to painting, photography, drawing, digital art, sculpture, tapestry and ceramics.
Please register your interest using the tab at the top of the page or email lainglearning@twmuseums.org.uk