ARTiculate: Paul Nash … We Are Making a New World (Visual Literacy Project)
Enquiry
KS3, KS4, SEND Art & Design, English, History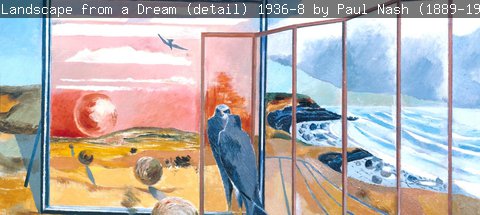 Cost:
£380 for groups of up to 20 pupils to participate in the project. If you would like more students to be involved then please get in touch for additional information and charges.
Please note: The CPD planning event (Wednesday 27 September, 4pm - 6pm) is FREE and open to all. Only schools participating in the rest of the project will be charged. There is an additional charge if your students participate in the Arts Award and you wish the gallery team to support and organise moderation.

There are limited spaces on this project. Schools will be allocated spaces on a first-come-first-served basis.
Cost includes:
Working with an artist, Visual Literacy workshop (including all materials), gallery visits to Laing & Hatton (excluding transport), final sharing event.
In September 2017 the Laing will host a display of key works by artist Paul Nash. This significant exhibition spans Nash's lifework, from his earliest drawings and the iconic war paintings to his powerfully emotional final landscapes. Students will work with the Laing team and a professional artist to develop their ability to interpret the works on display and use this as inspiration to create their own responses. Paul Nash (1889–1946) was a key figure in debates about British art's relationship to international modernism through both his art and his writing. Students will learn about how he communicated his thoughts and feelings in response to the First World War through both his artwork and powerful symbolic language. They will then work with an artist to create their own artwork and writing which they will then articulate at a presentation event back at the Laing Art Gallery.
This year we are excited to be partnering with the newly reopened Hatton Gallery based in Newcastle University's Campus. Your group will have the opportunity to participate in an additional FREE Pop Art workshop inspired by the exhibition Pioneers of Pop.
For more details or to book onto the introductory CPD planning session on Wednesday 27 September (4pm - 6pm) please contact the Laing Learning Team at learning@laingartgallery.org.uk or call 0191 278 1939.