CANCELLED UNTIL MAY: 4-day Art School for 11-16 year olds
Buy tickets
Events cancelled from 19 March to 1 May 2020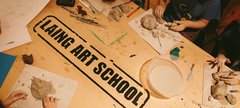 Monday 20 July - Thursday 23 July
Monday 27 July - Thursday 30 July
Monday 10 August - Thursday 13 August
Events cancelled from 19 March to 1 May 2020
Time
10am-3pm
(early drop-off available from 9.30am, late pick up available until 3.30pm)
Price
£100* (plus booking fee)
*An additional charge of £35 applies if participating in Bronze Arts Award*)
Following new advice in response to the COVID 19 pandemic and in line with other cultural organisations, we have taken the difficult decision to close the Laing Art Gallery from 5pm on Wednesday 18 March.
This is provisionally until 1 May 2020 but we will be reviewing the situation and updating if anything changes.
Please sign up to our emails at mustseemuseums.org.uk and check our social media channels and website so we can keep you up to date with what's going on.
Thank you for your support and understanding at this challenging time. Stay well and we look forward to welcoming you back in due course.
---
Looking for a bit of artistic, creative fun for your school holidays? Then our Art School may be just the thing for you!

Participants will work with a professional arts educator to experiment with a variety of materials and create a portfolio of paintings, illustrations and 3D artwork. Be inspired by the Laing's broad collection and explore and develop your artistic skills and techniques.

*There is also the opportunity for participants to achieve the nationally accredited Bronze Level Arts Award, at an additional cost. More information about the Arts Award can be found on their website: http://www.artsaward.org.uk/site/?id=64

Please note: Completed Arts Award portfolios have to moderated by Trinity College London which can take some time. Therefore young people will not receive their certificates immediately after the Art School.