Lindisfarne Gospels Schools Programme
Welcome
Welcome to our Lindisfarne Gospels Schools Programme page. Here you will find all the information relating to our schools programme, including workshops and school resources.
This page will be updated regularly as the learning programme expands, so do keep checking back.

The Lindisfarne Gospels Schools Briefings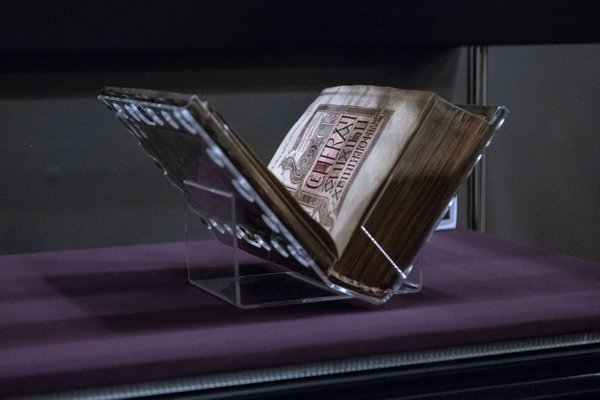 The Lindisfarne Gospels exhibition will look at the ways in which the Gospel book, written on Holy Island in the early eighth century, can bring people together today by inspiring thinking about who we are and where we come from, about identity, creativity, learning and sense of place. Alongside the Laing exhibition, there will be a supporting schools programme in keeping with the spirit of the exhibition providing opportunity for schools to participate in making this a truly regional celebration.
Please join us to explore the opportunities that will be running along with the exhibition of the wonderful Lindisfarne Gospels. We will be running two online school briefings, delivered by our Learning Officer Anne Fountain, to talk about the Gospels learning programme in greater depth. Book your place below:
---
Image: Lindisfarne Gospels c.700 on display at Palace Green Library in Durham, 2013